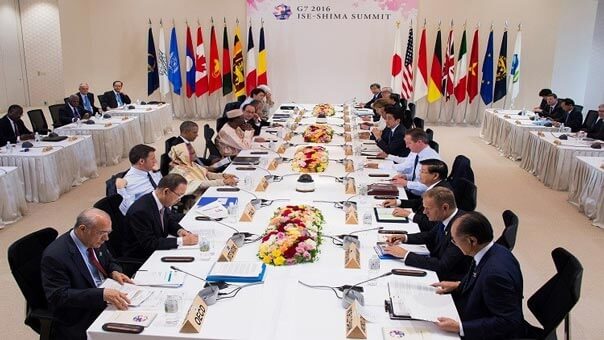 Local Editor
The G7 club of the world's largest industrial national economies expressed concern on Friday about risks to the world economy and pledged to seek strong, sustainable growth.
In a statement ending a two-day G7 summit in central Japan, the leaders committed to avoiding "competitive devaluation" of their currencies, while warning against wild exchange-rate moves.
"Global growth remains moderate and below potential, while risks of weak growth persist," said the G7, which comprises the United States, Germany, Japan, Britain, France, Italy and Canada.
This represents a compromise between Tokyo, which has threatened to intervene to block sharp rises in its yen currency, and Washington, which generally opposes market intervention.
The seven powers also committed to a cooperative approach in economic policy to stimulate and sustain growth of their sluggish economies with use of flexible spending strategies to stimulate employment and shore up confidence amid economic uncertainty.
German Chancellor Angela Merkel described the summit as a "success" and announced plans agreed in Japan to support Iraq with 3.6 billion euros. The funds are aimed at fighting terrorism and addressing the causes of migration. "The G7 recognizes the ongoing large scale movements of migrants and refugees as a global challenge which requires a global response," the participating countries said in their statement.
"We commit to increase global assistance to meet immediate and long-term needs of refugees and other displaced persons as well as their host communities."
The G-7 host, Japanese Prime Minister Shinzo Abe said he had won support from his counterparts for his own "three arrows" economic strategy of ultra-loose monetary policy, public spending and longer-term reforms. "We will be launching 'Abenomics' to the world," Abe said.
"A UK exit from the EU would reverse the trend towards greater global trade and investment, and the jobs they create, and is a further serious risk to growth," the leaders' statement also said.
Rising maritime tensions in Asia also led for language in the statement calling for disputes to be resolved peacefully.
"We are concerned about the situation in the East and South China Seas, and emphasize the fundamental importance of peaceful management and settlement of disputes," said the G7 statement, although it refrained from mentioning any individual countries by name.
Source: Al-Ahed news