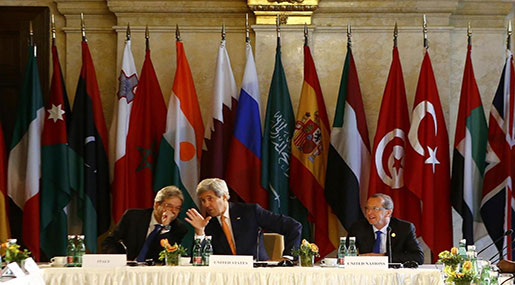 Local Editor
Senior envoys from world and regional powers are to meet once again in Vienna on Tuesday in an effort to salvage stumbling efforts to halt Syria's bloody war.
US Secretary of State John Kerry and Russia's Foreign Minister Sergei Lavrov — diplomacy's odd couple, at loggerheads over much else in the world — will chair the meeting. At the gathering, the 17-nation International Syria Support Group [ISSG] will renew its call for a national cessation of hostilities and immediate humanitarian access to besieged communities.
But the third plank of the plan — a call for the Syrian government and the militants to agree on a "framework for political transition" — may cause headaches.
US officials travelling with Kerry said Washington still insists that Syria's al-Assad should go, with an August 1 deadline for settling on the framework under which he does so. But the Syrian strongman has shown no sign he is prepared to leave as the Syrian army is still battling for territory.
UN-mediated peace talks in Geneva under UN envoy Staffan de Mistura made little headway and now even Washington's allies privately doubt the August 1 date will be met.
"The target for August is to have a framework in place, a framework agreed, for a political transition," a senior State Department official told reporters in Vienna. "We're talking to the Russians, trying to get a better environment for the political negotiations," he said.
Russia nevertheless endorsed the UN Security Council resolution that enshrined the ISSG peace plan in international law — and Lavrov says he supports it. "Today we're a long way from the finish line," he said Monday, according to official Russian news agencies.
"But if everything decided under the auspices of the ISSG and the UN Security Council is put in place honestly, then there's every chance the situation won't stay as it is." The situation on the ground as it stands is dire. Washington and Moscow chivvied the warring parties into a shaky ceasefire in late February, but pockets of violence remain.
Meanwhile, the Syrian army continues to blockade several militant-held areas around Damascus and Takfiri terrorist groups like Daesh [Arabic acronym for "ISIS" / "ISIL"] and the al-Nusra Front, not party to the ceasefire or peace talks, still hold vast swathes of the country and carry out attacks. On Monday, powerful blasts rocked a gas field after what observers said was a Daesh attack on the key infrastructure Syria will need if it is to rebuild.
Fighting had also broken out between al-Nusra and other militant factions that chose to take part in the peace process, killing more than 300 fighters in recent weeks.
The Syrian war erupted in early 2011 and had since killed more than 270,000 people. Millions had been driven from their homes and a wave of refugees had joined a flow of migrants struggling to escape to Europe, causing a humanitarian and political crisis.
On the ground, US allies like Saudi Arabia and Turkey back some of the Takfiri militant factions, while Russia had dispatched war planes and advisers to back the Syrian government.
Source: Al-Ahed news