Primo Piano
Rassegna Esteri
Typhoon Haiyan: 10,000 feared dead as extent of devastation in the Philippines is revealed and monster storm heads towards Vietnam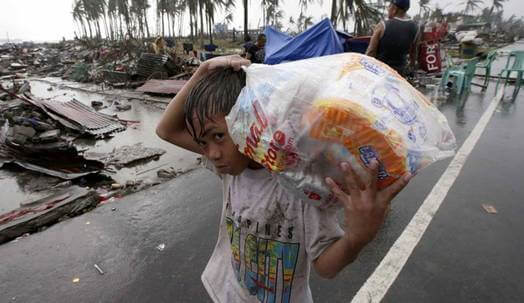 Officials have said they fear an estimated 10,000 people may have been killed in just a single area of the central Philippines after one of the most powerful storms ever recorded ripped through the south Asian country leaving a trail of death and devastation behind it.
Super typhoon Haiyan destroyed schools, homes and an airport in the eastern city of Tacloban. It is estimated that Haiyan destroyed 70 to 80 percent of the area in its path as it tore through Leyte province on Friday. The nearby island of Samar has also reported around 300 dead and 2,000 people still missing.
Tourists in Vietnam were today also bracing for the monster storm as it continued its deadly progress across the South China Sea.
Pictures emerged showing the widespread destruction in the Philippines amid reports of survivors "walking like zombies" and looters rampaging through stores "taking everything".
Many of the worst hit villagers are still yet to be reached.
According to the Philippine government only 151 people have so far died as a consequence of the storm but more than 330,900 people were displaced and 4.3 million "affected" by the typhoon in 36 provinces, the UN said.
The national government and disaster agency have not confirmed the latest estimate of deaths, a sharp increase from initial estimates on Saturday of at least 1,000 killed by a storm whose sustained winds reached 195 miles per hour (313 km per hour) with gusts of up to 235 mph (378 kph).
With the death toll expected to rise as more isolated areas are reached by rescuers Typhoon Haiyan would appear to be the deadliest natural disaster ever to hit the Philippines. In recent months parts of the archipelago have dealt with fighting and last month a 7.2 magnitude quake that killed hundreds.
"All systems, all vestiges of modern living — communications, power, water — all are down," Interior Secretary Mar Roxas said after visiting Tacloban on Saturday. "There is no way to communicate with the people."
The massive casualties occurred even though the government had evacuated nearly 800,000 people ahead of the typhoon. About 4 million people were affected by the storm, the national disaster agency said.
The typhoon is now bearing down on Vietnam where more than 600,000 people have been evacuated in northern provinces. Four people have already been reported killed there while trying to escape the storm.
The storm is expected to make landfall between 03:00 and 09:00 GMT although forecasters say it will have decreased in strength significantly.
Source: http://www.independent.co.uk