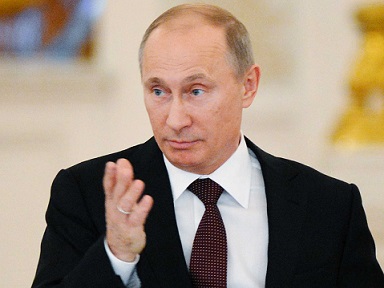 Russian President Vladimir Putin told German Chancellor Angela Merkel that Ukraine is on the verge of civil war after Kiev government sent in troops against pro-Moscow separatists in the east of the country.
In a statement on telephone talks between Putin and Merkel, the Kremlin said the Russian president "remarked that the sharp escalation of the conflict has placed the country, in effect, on the verge of civil war."
But the leaders both "emphasized the importance" of planned four-way talks on Ukraine on Thursday between top diplomats of Russia, the European Union, the United States and Ukraine.
Ukraine pushed tanks towards a flashpoint eastern city on Tuesday to quash a separatist surge a high-risk operation that was sharply condemned by the Kremlin but won Washington's support.
"They must be warned that if they do not lay down their arms, they will be destroyed," Ukrainian Security Service (SBU) General Vasyl Krutov told a group of reporters tracking the sudden tank movements.
The Kremlin statement described the actions of the Ukrainian army in eastern Ukraine as an "anti-constitutional course to use force against peaceful protest actions".
Kiev's response to the eastern insurgency prompted Putin to tell UN Secretary General Ban Ki-moon that Moscow "expects clear condemnation from the United Nations and the international community of the anti-constitutional actions" by Ukraine.
Ban in turn "expressed his alarm about the highly volatile situation in eastern Ukraine" and told the Russian leader that everyone involved needed to "work to de-escalate the situation", his office said.
But the White House described Ukraine's military operation as a "measured" response to a lawless insurgency that had put the government in an "untenable" situation.
Source: Al-Manar