Rassegna Esteri
Putin in Press Conference with Sisi: To Build Regional Front against Terrorism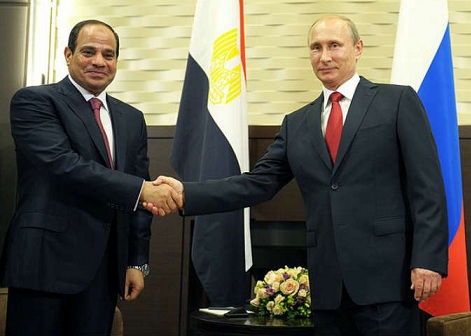 Local Editor
Fight against terrorism and issues concerning the Palestinian-Israeli settlement will be in the focus of the Russian-Egyptian high-level talks, Russian President Vladimir Putin said opening a meeting with his Egyptian counterpart Abdel-Fattah el-Sisi on Wednesday in Moscow.
"I dearly hope that in the course of your visit we will manage to talk not only on the economic issues, speaking of which I would mention that our bilateral trade increased by 86% over the last year, but we will also talk on the situation in the region in general, discuss the Palestinian-Israeli settlement and the fight against terrorism," The Russian president said.
"Egypt undoubtedly plays the key role in all of these issues," Putin said welcoming the Egyptian leader.
El-Sisi said it was already the fourth meeting between the presidents of the two countries and it means that "there is a particular nature of relations between both countries."
"With each our meeting the people of Egypt look with hope on the perspectives of our relations development in various spheres and not only in the sphere of economy, but the sphere of the fight against terrorism, particularly in the region, which is rocked by enormous problems of terrorism and extremism," the Egyptian president said.
He added that the authorities of Egypt are fighting this evil not only by military methods but also by means of the country's social and economic development.
According to a statement from the Kremlin's press service on Tuesday, Egypt is one of Russia's major Middle East partners. Trade and economic ties form an important aspect of Russian-Egyptian bilateral ties.
The year of 2014 saw an 86% increase in bilateral trade since 2013 reaching $5.5 billion. The bilateral trade dwindled by 16% in monetary terms in the first half of 2015 due to falling prices in global product markets and foreign exchange rate fluctuations.
However, the trade structure remained unchanged. At the same time, Egypt's agricultural exports to Russia are showing stable growth. The quantum of trade over the designated period exceeded 500,000 metric tons.
Source: Al-Manar