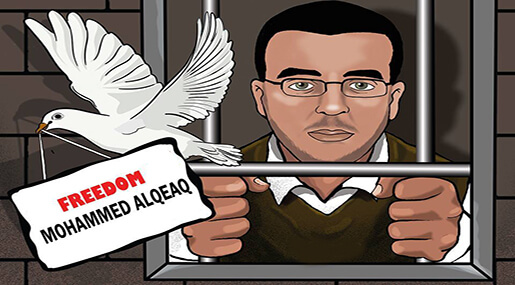 Local Editor
Palestinian journalist who went on hunger strike 90 days ago over his unlawful detention by "Israeli" authorities could die soon. He has almost lost the ability to speak and hear, and is paying a high price for freedom of speech, his lawyer says.
"Mohammed al Qeq is in critical condition. Mohammed could die at any time. Minutes and seconds separate him from death," his lawyer Ashraf Abu Sneineh said.

Mohammed suffers from convulsions in the muscles of his hands and feet and medical certificates from Afula Hospital said the journalist is close to death, according to the lawyer.
Muhammed al-Qeq was arrested by "Israel's" internal security agency Shin Bet in November, over alleged links with Hamas.
He subsequently launched a hunger strike in protest at being detained without charges or due legal process, refusing food and drinking only water.
The journalist is believed to be the first to protest extrajudicial detention, widely practiced against the Palestinians, by refusing food.
Abu Sneineh believes Mohammed's spirit and psychological condition "are completely fine." The journalist is planning to continue "his hunger-strike until he is released," the lawyer added.
So far no charges had been brought against him. His family believes he was detained for his work as a journalist.
Al-Qeq's wife, Faiha'a Shalash, also a journalist, told RT the family has contacted the Palestinian authorities and the Red Cross, "which said that even they are not allowed to visit Muhammad due to security reasons."
"This is all because of the oppression he has been subjected to since the beginning of his hunger strike. They just want to force him to stop it," she added.
Mohammed's health worsened rapidly after losing over 20 kilograms, al-Qeq's lawyer said back in November. The journalist was losing consciousness while trying to walk to the toilet, and prison guards reportedly forced him to give a blood sample despite his condition.
Source: Al-Ahed news