Rassegna Esteri
Mysterious story of Attorney President Trump and Escort First Lady Melania of America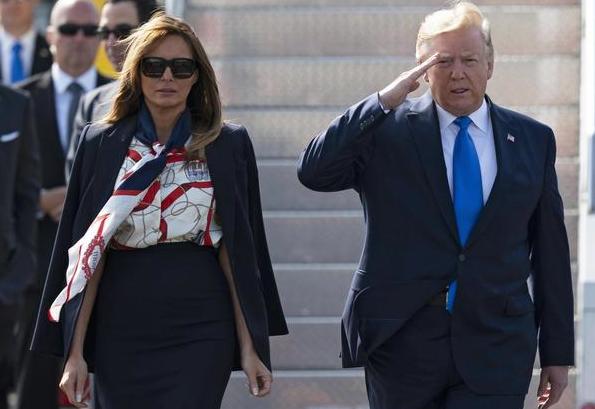 BROOKLYN – About two months ago, amid news of the Corona disaster and anti-racism protests in the United States, the family of US Federal Judge Esther Salas were assassinated in the case of Ghislaine Maxwell, who is accused of sexually harassing teenage girls. But who is Gisline Maxwell, who has been accused by the US judiciary of identifying and hiring underage girls for the Jeffrey Epstein – Trump sex club?
Who is Epstein, whose body was finally found dead in Manhattan Jail in July 2019 for raping children and running a sex and drug club while CCTV footage was being erased?
Who is Judge Acosta who convicted Epstein of child rape in 2017 but was only sentenced to 13 months in prison due to his friendship with Trump, and Acosta became Trump's minister of labor, but was forced to resign when Epstein's case reopened?
What did Epstein and Maxwell have to do with Donald and Melania Trump, whose work has led to suicide and arrest?
These are questions that, along with all the events of Trump's presidency, have occupied the minds of many American public opinion inside and outside the United States.
Gesline Maxwell is the girlfriend of Epstein, the daughter of Robert Maxwell, a notorious British press activist and Member of Parliament who, after it was revealed in 1991 that he had stolen hundreds of millions of pounds from his corporate pension fund, his body was found near his luxury yacht at sea. His family lost all their possessions in less than a day, and Maxwell, who had French, British, and American passports, immigrated to New York to escape poverty and notoriety.
In New York, Maxwell partnered with sex and drug dealer Epstein to offer a modeling job with the intention of earning astronomical income by giving beautiful young virgins to the rich.
She attended Marlborough College, one of Britain's most expensive private colleges, and through her father connected with members of Buckingham Palace, had easy access to Britain's dirtiest rich, including "Prince Andrew".
Epstein and Maxwell needed to select celebrities in New York and London to start their own sex agency. He convinced Trump, who worked hard to escape financial bankruptcy in 1991 and needed to meet famous people.
Maxwell also considered Prince Andrew, who had good relations with influential people in London and the wealthy princes of Saudi Arabia and the UAE.
Epstein was introduced to Prince Andrew by Maxwell to host the London Sex Club, and he worked for many years at London and New York Sex Clubs, and Andrew was a regular client of virgin girls.
The American team "Trump-Epstein" and the British team "Andrew-Maxwell" needed to work with a global brand to start an international career to host the sex of the rich.
Trump, a regular at Casablanca nightclubs at his New York mansions, hired John Casablanca, director of the Italian company Elite Model Management, to work with him, and in 1991 signed a business deal with him as an investor and referee for the Elite Model beauty pageant.
With this agreement, the modeling industry and the sex industry of Europe and the United States merged, making it possible for politicians and the rich to have easy and hassle-free sex with teenage and virgin girls at the Trump and Epstein parties, which was welcomed. Even former US President Bill Clinton and Arab princes attended the parties.
Trump and Epstein held the Young Model Girls Contest at the Plaza Hotel in 1993 and in Maralogo in 1993 to advance their work. In these competitions, the top models who were willing to cooperate with the "Elite Model" were selected.
The competition was an important achievement and showed that girls from Eastern Europe and Latin America, and especially Brazil, are more willing to work in the sex industry. Since then, Elite has focused its modeling work on teenage girls identified through fashion brands and fashion magazines in Eastern European countries.
For easier access to Eastern European girls, "Elite Model" selected young supermodels who, while familiar with the Russian language and culture, were more attractive to girls from Eastern European countries, and then could more easily communicate and educate girls, especially from Russia, Ukraine and Belarus were transferred to the United States and London.
"Melania" was noticed in these searches among the beautiful girls of Eastern Europe. An unknown figure, she was introduced to Casablanca and Epstein through a man named Paolo Zampolli. From now on, in order for Melania to become international, it was necessary for her to become famous worldwide in collaboration with world-famous brands in France and Italy.
Zampolii started the ID Models agency in the 1990s to attract European girls and coordinated Melania's work in Italy with "Joseph Mifsud", who had close ties to Trump and Epstein.
In 1992, with the support of Zampolii and Mifsud, "Jana Magazine" published photos of Melania with 12 beautiful young girls, which eventually selected Melania as the top three models of the year. The yellow press immediately published reports and photos of Melania's personality and achievements.
After gaining fame in Italy and France in 1995, Melania arrived in New York on an H-1B visa and lived with a sports photographer named "Matthew Atanian" and later with Epstein in an apartment where he worked as a photographer.
The apartment was actually owned by Elite Model and photographed teenage girls exported from Europe to evaluate modeling. It was in this apartment that Jeffrey Epstein was accused of raping a 15-year-old girl after forcing her to undress.
Melania's main problem during her first years in the United States, however; was the heavy cost of living in New York. From 1995 to 1997, she paid for her expensive living in New York by printing nude photos, especially on Trump's private jet and escorting some Epstein clients, until some important events occurred in 1999.
Trump, who chose Melania as one of his sexy dolls, divorced his second wife and started T-Models in hopes of expanding the empire of the fashion world. Under Trump and Epstein, the company entered the sex trade and illegally traded virgin girls and minors to the rich.
Melania, who after a few years of sexual slavery had lost her appeal to long-awaited clients, was hired for a second phase of work hosted by young newcomers and forced to maintain her body and set an example for new models. Perform two cosmetic operations on the chest and face during the years 98 and 99.
At T-Models, Melania and Maxwell managed to train girls to photograph and then sleep with the rich, and for models who were reluctant to continue, they persuaded them and even their parents to settle for a lucrative short-term job with a residence and work permit in the United States by showing their own bank accounts and photos of their parties and how they progressed in the fashion market.
In order for the newcomers to start their careers without any embarrassment, Melania and Maxwell forced them to watch a free relationship with rented men to learn how to behave in a variety of sexual ways with guests.
Seeing these scenes, they had to learn the courage and skills to have sex with men of all tastes and ages. In some cases, Melania and Maxwell were even the sex model for rented men.
Accordingly; A U.S. court has charged Maxwell with sexual harassment of underage girls after her arrest, which carries a life sentence under the law.
Although Trump promised to shut down T-Models after his inauguration in January 2016, the agency continued to work until 2017 to remove model girls who were staying in the United States illegally.
To cover up the role of Trump and Melania in the sex club, Epstein has (apparently) committed suicide, Joseph Mifsud disappeared, Prince Andrew has been summoned by the US Attorney, Maxwell has been arrested, the family of US Federal Judge Esther Salas judge have been assassinated, 10 complaints against Trump Silent, Trump's lawyers have either threatened exponents of Melania's sexual slavery or collected her nude photos at great expense.
by Adam Dentor (@Adamdentor)