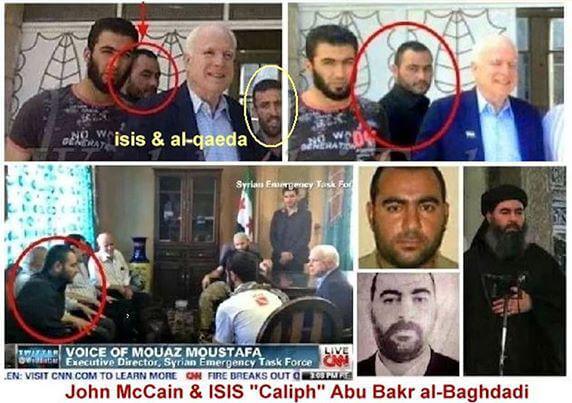 Mehr News Agency – Senator John McCain was one of the most influential figures in the American political and military structure. Washington's policies on Afghanistan, Iran, Russia and other countries was influenced by McCain's opinions. His influence on the Pentagon was also evident. His continuing violation doctrine in Afghanistan and his hostile views on Russia have restrained Trump from improving relations with Moscow. In the case of Iran, McCain was an advocate of regime change.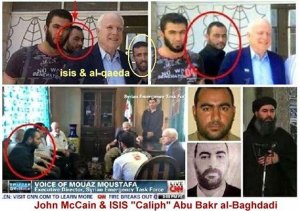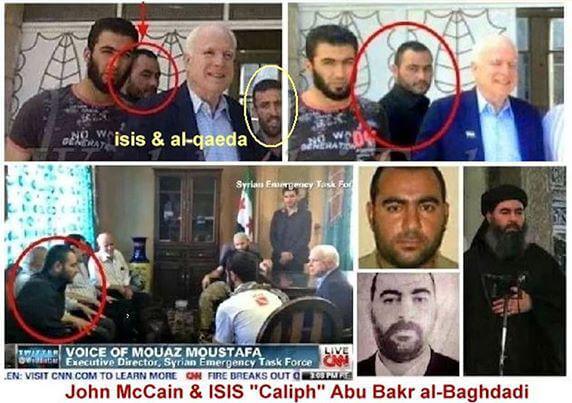 Mehr News Agency has had three talks with McCain over the past years. An outspoken critic of US foreign policy, it had written an analysis about Barack Obama's presidency addressed to Senator McCain. The logic of that analysis was based on several principles, including:
– The United States claims to support liberal democratic values. In the school of liberalism, domestic politics and foreign policy are not separate from one another, and foreign policy is the continuation of domestic politics. Why is foreign policy promoting and expanding its alleged liberal and democratic values beyond its borders contrary to the claims made by Washington itself?
– If the United States claims to support democratic systems, then the kind of security that they look at should prioritize "human security", but the country's approach is to emphasize state security. How is this this justified in US foreign policy?
In response to this note, Senator McCain said that he would consider it before making decisions and voting in the Senate, and will work with his colleagues in the Senate.
In his last interview of Mehr News agency in August 2017 the topic was the JCPOA. McCain was a serious opponent of it and, in the shadow of the presidency of Donald Trump, he and his associates were hostile to the JCPOA.
The full text of Mehr's interview with Sen. McCain was before the US withdrawal from JCPOA by Trump:
After extensive negotiations for lifting sanctions on Iran in exchange for limits on its nuclear program, the Joint Comprehensive Plan of Action known commonly JCPOA was finally signed in July 2015 between Iran and the P5 + 1. According to the agreement, the number of Iran's centrifuges has declined, uranium enrichment in key facilities is banned, and exploration and development of uranium in Iran are limited.
In July 2017, the Trump Administration confirmed that Iran had implemented commitments under JCPOA and announced that Iran was expected to remain committed to the nuclear deal. At the same time, the Trump Administration punished Iran for a recent missile test, and the US Department of the Treasury imposed fresh sanctions on six Iranian companies linked to the ballistic missile program. Also, the Senate augmented not only sanctions against Iran, but also against Russia and North Korea.
McCain said:
I believe that Iran should be held accountable for its actions by imposing new sanctions on its ballistic missile program, imposing sanctions on the Islamic Revolutionary Guard Corps, imposing sanctions on Iranians accused of human rights abuses and intensifying sanctions on Iran for its violations of the arms embargo.
It's time that the United States and the international community held Iran responsible for its dangerous behaviors! And I am very pleased that the bill was approved by a decisive vote of the two parties in the Senate.
US foreign policy against Iran has been plain for nearly forty years, including the following: Imposing limiting measures towards the Islamic Republic of Iran and its influence in the region, strengthening Israel and US's Arab allies, reducing regional tensions and preventing Iran from having nuclear weapons in the future.
I will work with my colleagues in the congress to pressure Iran to stop supporting terrorism around the world, to reduce all its abusive activities across the region and the release of American prisoners in Iran.
McCain also had a conversation with Mehr News Agency during the nuclear talks in 2015:
Over the course of several years, the US Congress has spoken out on Iran's nuclear program and has been leading the sanction initiative against the country. In the meantime, economic sanctions against Iran have increased the willingness of the country to negotiate. On November 23rd, 2013, the Iranian government agreed to stop its proliferation of nuclear programs for the temporary lifting of sanctions and enter into intensive negotiations for a nuclear deal that could ultimately lead to a peaceful nuclear program.
Although this agreement has been able to reduce the speed of Iran's nuclear program, I am worried about the serious issues in the proposed agreement, which includes continuing the growth of Iran's centrifuge program with high potential for producing atomic bombs. I also want to know the military dimensions of the program.
Moreover, this seems not to provide a long-term solution to Iran's nuclear intentions. If this "comprehensive agreement" expires, Iran may resume its nuclear weapons program.
Worse still, it's not a guarantee that, in the event of any nuclear agreement, Iran will cease to support terrorism and other negative activities that currently threaten our friends and allies in the Middle East and endangers our national security interests.
For these reasons, I support the so-called "S.269" plan to extend sanctions against Iran. The law enforces new sanctions against the country while negotiations are underway to reach a final agreement. In addition, the law allows Congress to monitor any agreement, and if Iran sanctions are to be re-enforced, or its failure to reach a final agreement or refraining it from complying with its commitments and continuing its efforts to build a nuclear bomb. This law was announced on January 27, 2015, and is currently under review at the Banking, Housing, and Urban Planning Committee.
I recently supported the "S.615" project, which included a Congressional review and monitoring of an Iran Nuclear Agreement. The bipartisan resolution requires the president to submit a full text of any agreement with Iran to Congress. It would also stop the government from suspending Congressional sanctions if Congress were to conclude that the agreement did not provide for our national security interests.
In addition, I am sending a letter to the President in line with the goals of Sen. Lindsey Graham and Robert Menendez, and I set out the fundamental principles that must be taken into account in any comprehensive agreement with Iran over the nuclear program. The conditions include the dismantling of Iranian enrichment facilities, the removal of concerns expressed by the UN Security Council and the approval of focused inspections to ensure that Iran does not seek to develop any nuclear weapons.
The deadline for reaching the comprehensive nuclear agreement was November 24, 2014. This deadline has now been extended to July 1, 2015 for another seven months. My concern is that these long-term talks have not yielded any result in stopping Iran's nuclear goals and have opposed the international community with the wrong security response.
I emphasize that I will continue to work with other colleagues in Congress to continue the pressure on the Iranian government to prevent the consequences of its horrendous activities. I would also press the President to ensure that any nuclear deal with Iran will be completely transparent and accountable to the American people.
In international affairs, McCain was also a serious critic of Donald Trump's foreign policy in some areas. One of these areas was the Trans-Pacific Partnership Agreement. The Trans-Pacific Partnership is a defunct proposed trade agreement between Australia, Brunei, Canada, Chile, Japan, Malaysia, Mexico, New Zealand, Peru, Singapore, Vietnam, and United States. Trump pulled out of the deal, and McCain was a critic of this decision.
McCain had an interview with Mehr News Agency in 2016 and explained his views on TPP:
"As you may know, the TPP Treaty is a free trade agreement between the United States and 11 Pacific countries, including Australia, Vietnam, Japan, Singapore and New Zealand. The talks on this important pact ended on the fifth day of October 2015."
I strongly support the reduction of barriers to trade and see this as an opportunity for the American workforce. The global economy continues to sustain itself and we have limited our capacities and potentials if we fence ourselves in and do not have foreign competition. In fact, the "competition" makes us stronger. We can compete and win. Or we can ignore this principle.
Lowering barriers to trade plays an important role in creating better jobs and higher wages. Free trade also helps consumers who are low or middle income to be able to afford more money and can buy more goods. For the reasons I've mentioned, I strongly support the TPP pact and I'm eager to see Congress approve it.
I also support TPP because the treaty goes beyond a trade treaty. It is in fact a treaty and strategic agreement between the United States and many countries in the Asia-Pacific region that is necessary and complementary to the continued security and welfare of the United States of America. TPP approval sends this message to both our allies and rivals that the United States will remain active as a strong and committed actor in Asia.
The treaty strengthens US security relations with countries such as Japan, Malaysia, Vietnam and Australia, and will provide a balance between China and the United States, if US fails to compete with it, China's supportive policies will dominate.
The TPP Agreement also provides an important opportunity to expand Arizona business relations at an international level worth $19 billion, stimulating economic growth and employment, and lowering prices for US consumers.
At the moment, Arizona companies that are engaged in international trade with Asia-Pacific countries have a tremendous tariff of 70 percent and face other barriers to trade in exporting some products and services to many countries in the region. The TPP Treaty will remove these barriers and enable Arizona's businesses to expand its exports to the Asia-Pacific region and motivate new producers to enter and emerge in these emerging markets.
Early estimates suggest that the trade agreement will create 17,000 new jobs for Arizona and will significantly increase foreign direct investment in the state. I am aware that some people are worried about President Obama's request for a TPA (Free Trade Promotion Act) — also known as the fast-track authority facilitating trade, as a way to facilitate the adoption of TPP and other business agreements.
However, with the introduction of the TPA to President Obama, the Congress will influence the President and will set some parameters for business talks and determine the goals to be taken into consideration in the final agreement.
I believe that TPA was an important rule that enabled the President to negotiate TPP in a transparent and accountable manner. Now the talks have come to an end, and Congress will fully examine the final treaty to ensure that TPP will provide America's economic priorities in the best possible way.
While there may be months before the final design of the agreement and negotiation on raising the standards of the agreement is done, I am looking forward to a strong TPP agreement to reduce barriers to trade and open new markets and promote US-made exports, and will be able to make American companies more competitive in one of the most important economic and high-growth regions, the Asia-Pacific. McCain is now dead from brain cancer.  His hawkish views had a lot of critics inside and outside the United States.