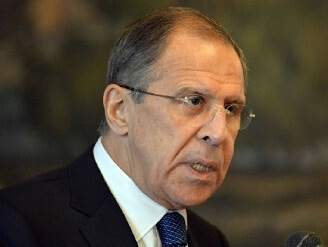 Russian Foreign Minister Sergei Lavrov says the sextet of international mediators and Iran have good chances to work out a nuclear agreement after dropping threats and the "leverage" of sanctions.
"The essence of this policy is: threats must be laid aside alongside sanction levers bypassing the UN Security Council, and the problem must be considered in essence," Sergey Lavrov said after informing his Indian and Chinese counterparts about the results achieved in Geneva talks over the weekend.
Russia's foreign ministry has praised the "significant progress" that has been made in recent discussions, saying that now "chances are high" that "the Sextet's political directors" and Iran will formulate approaches that could pave the way for the agreement.
"The Sextet's political directors will meet on November 20 to use the achievements made in recent Geneva discussions and lay approaches that could forge groundwork for a joint document. The chances are very, very high for that," he told the press.
Although no immediate result was reached during the latest round of talks between Iran and six world powers, it still was "time well-spent," Lavrov said.
"We have created grounds for cooperation that will help us decide how to deal with the Iranian nuclear problem in terms of IAEA and UN Security Council requirements," he said.
The Foreign Minister emphasized that the meeting in Geneva "confirmed" that polemics and the exchange of initial positions "without attempts to draw them nearer" are being shifted to the background, while an understanding of necessity to take up issues which arouse concerns in the IAEA and the world community, is now in the foreground.
For its part, Iran has also demonstrated its determination to move further on this track, Lavrov said, stressing that talks between the Sextet and Iranian officials were concrete.
An unplanned arrival of US Secretary of State John Kerry as well as the foreign ministers of Britain, France and Germany raised expectations that a potential deal was in the offing. But the French Foreign Minister, Laurent Fabius, threw a spanner in the works at the last-minute.
Fabius said on Saturday in Geneva that the Israeli regime's "concerns" must be taken into consideration in the course of the nuclear talks, adding that.
– See more at: http://en.alalam.ir/news/1533404#sthash.Bzh6knpK.dpuf