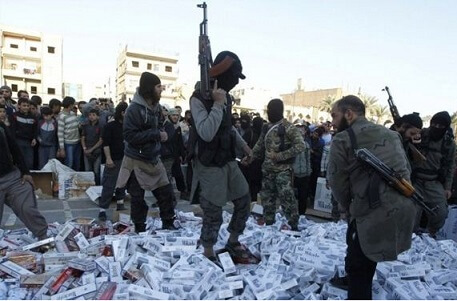 The Islamic State in Iraq and the Levant is a Salafi militant groups with Takfiri and extremist beliefs which is active in Iraq and Syria.
In its unrecognized self-proclaimed status as an independent state it claims the territory of Iraq and Syria, with implied future claims intended over more of the Levant (e.g. Lebanon).
How ISIL came to existence:
Establishment of ISIL goes back to the US-led attack on Iraq, when the group started working under the name Islamic State of Iraq.
In October 15, 2006, after a series of meeting between multiple militant groups, the group announced its establishment. Abu Umar al-Baghdadi was announced as leader of the group at the October 15th meeting.
In April 19th, 2010, after death of Abu Umar, Abu Bakr al-Baghdadi became head of the militant group and started extending ISIL's operations in the region.
With the beginning of the war in Syria, ISIL militants, then known as ISI, joined the war to help the Western-backed Syrian opposition topple the Syrian government. The group later changed its name to the current one.
Al-Nusra links with ISIL
Al-Nusra Front was one of the major militant groups that was formed in Syria in 2011 and started working as a division of the ISIL to fight against Syrian army.
In April 2013, Abu Bakr al-Baghdadi released an audio statement, in which he announced that Jabhat al-Nusra had been established, financed and supported by the Islamic State of Iraq.[139] Al-Baghdadi declared that the two groups were officially merging under the name "Islamic State of Iraq and Al-Sham (Levant)."
The two later separated due to internal power struggles, and started fighting each other after al-Qaeda Leader, to whom both groups had pledged loyalty, chose al-Nusra as its representative in Syria and told Baghdadi to obey al-Nusra leader.
ISIL presence in Iraq
Following large scale offensives into Iraq's northern areas on June 10, ISIL seized control over most of Mosul, the second-most populous city in Iraq and its surrounding Nineveh province, in addition to Fallujah. ISIL also took control of Tikrit, the administrative center of the Salah ad Din Governorate, on June 12, 2014.
ISIL presence in Syria
In November 2013, ISIL stormed Raqqa and pushed out militants from the so-called Free Syrian Army, and established a permanent base in the town.
People in Raqqa have been leaving under a harsh rule imposed by the extremist group, with frequent public executions and punishments.
In November 2013, the pro-opposition Syrian Observatory for Human Rights (SOHR) stated: "ISIL is the strongest group in Northern Syria −100%- and anyone who tells you anything else is lying."
How is ISIL supported?
ISIL is widely believed to rely on foreign financial and military support. Following group's invasion to Mosul, Iraqi officials blamed Saudi Arabia, Turkish intelligence and former Iraqi vice president Tariq al-Hashimi of facilitating the attack. Iraq's Interior Ministry has said that militants have launched an open war in Iraq, and it was a 'conspiracy' that aimed to push the Middle Eastern country into chaos.
– See more at: http://en.alalam.ir/news/1602105#sthash.yqHXo0iR.dpuf