Rassegna Esteri
Bir Abed Massacre: The Failed Assassination Attempt… The Assassin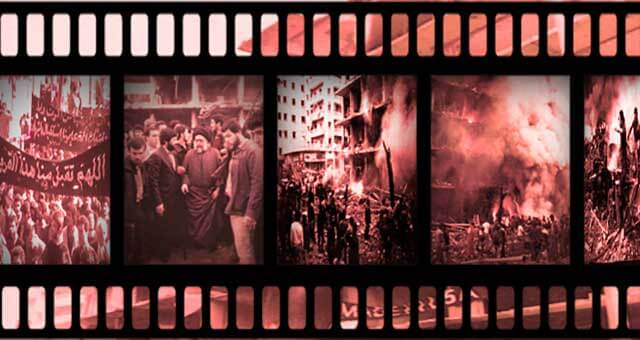 Amir Qanso
It is Bir Abed, a neighborhood in the Southern Suburb of Beirut. There, life is normal, and children have just planted a tree. They want to say, "You kill, we sow life." The tree is to eternize the memory of martyrs who fell three decades ago. 
Locals seek to give a lasting flame to this memory because they want to prove that what happened that day deeply touched them. Ayatollah Sayyed Mohammad Hussein Fadlallah is now in the heavens. But the criminal is still at large and unaccused. Maybe this is what they want. Chastisement for the culprit.
On Friday, March 8, 1985, devout have just performed their Friday prayers at Imam Ali Reda Mosque in Bir Abed. They headed to their homes, shops, work…Women, who prayed after men, had no idea the monster of killing was stalking them, so that they would not return to their home and families.
The big bang that targeted late Ayatollah Sayyed Mohammad Hussein Fadlallah in person sought to take vengeance on this resisting Imam, always braced for facing the schemes of the US and its Arab and local subordinates. He was the target, but God's will was different.
The Sayyed survived, thanks to the Almighty, and to the blessing of one faithful woman who insisted on addressing a last minute question to him. Thanks to her, time ran late. The Sayyed did not make it on time to the very place he, along passengers, was set to be massacred.
Surviving witnesses relate that the remains of men and women who fell in the blast have mixed with iron and concrete pieces. The striking force of the explosion even threw a passenger to beyond the barracks and checkpoints belligerent militias set between East and West Beirut.
One woman, who miraculously survived after her body was still alive when she was mistakenly put in a corps fridge at a local hospital, tells how she saw death in her bare eyes and how it all turned into hell all of a sudden.
Who was behind the massacre?
He who executed that appalling crime on the ground immediately received his punishment. But there are still impune criminals. They are still free at large. Nonetheless, this is no surprise; the US intelligence service and the affiliated rings were the side that plotted, recruited, and supervised the execution against targets in favor of US political and security agenda. Besides, the US administration was not far from making reprisals for the attacks against the US marines when they invaded Beirut in the early '80s. The second conniver was an Arab security apparatus, which took charge of providing an open financial credit, to hold back the ascending political rise of Shias on the Lebanese scene and to get rid of an eminent symbol, Sayyed Fadlallah.
This is how the US security interests and Arab's converged and provided what was required to execute the crime from A to Z.
This is not a gist of the imagination of a writer who lived back then and met many eyewitnesses and survivals. Killing was not alone the aim, but rather Sayyed Fadlallah was. This is why his survive was the outcome of executors, planners, and funders' fiasco.
In a special episode from the famous "Lebanon War" documentary made and broadcast by al-Jazeera channel, Omar Issawi said that Iran's foes retaliated with a destructive explosion in Bir Abed, mostly populated by Shias.

He said that the explosion targeted Sayyed Mohammad Hussein Fadallah, a Shia religious man whom media outlets have called "Hizbullah's spiritual leader," albeit he denied any official link to the party. "Fadlallah survived the blast, which martyred more than 80 people and wounded nearly two hundreds."
Until here, the narration is simple. But the riddle that remained lowlighted and unraveled was the identity of "Iran's foes" who executed that crime.
In that very show, Issawi relays a taped testimony of the late scholar, hereby saying, "I was about to leave the Mosque, when a woman of our acquaintance came to me and asked me to answer some of her questions and listen to problems she wanted to tell me. I refused because I was extremely fatigued, but she insisted. So I talked to her. As we were speaking, a huge explosion blew up. If I were at that moment at…if I did not respond to that woman, I would have been at the very place of the explosion. By chance, a car similar to mine came to the place. Criminals thought it was mine. Some local radio stations even reported that I was beneath the wrecks. I said that death is our habit, and that martyrdom for the sake of God was our dignity. When they scared us with death, we would not be scared, if death was for the sake of the cause and the message."
This is how the late Sayyed told the story of his survival. But in the second part of the taped testimony, the Sayyed points at what can be called the real culprit: "Some official sides which I do not wish to reveal tried to offer me about 17 or 27 million-I do not recall the exact amount-under the guise of aid to the orphans foundations' projects I sponsor, through one Lebanese official who was not an official at the time." Sayyed Fadlallah explained that the "donation" was set to be given without him signing any document, etc. "So I told the mediator, a Lebanese journalist who was present then and who is now in Lebanon and you can ask him, 'I do not do in secret what I am ashamed to doing in public. I cannot say that I have taken money from a top official without telling people. I cannot do what I cannot tell people about.'"
Who is this businessman who came bribe Sayyed Fadallah to keep silent over the crime…again, Sayyed Fadlallh survived another crime this businessman was making. That man was the former Lebanese Prime Minister, Rafiq Hariri, accompanied by a Lebanese journalist who was close to Shias in Lebanon. This is what many, who were interested in Sayyed Fadallah's words to Omar Issawi as unearthing a Saudi deal to keep the crime unexposed vs. the money, confirm. This is also confirmation of what Bob Woodward, a Washington Post journalist, later wrote, saying the explosion was planned by the US Intelligence, funded by KSA, and executed by Lebanese. This was as well quoted by Omar Issawi in "Lebanon War."
Bir Abed, 2013…here, a lot of people do not forget who once dared kill them. They do not want this assassin to disappear, for punishment.

Source: al-Ahed news, Translated and Edited by website team