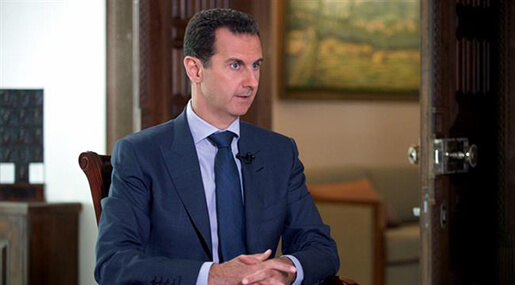 Local Editor
Syrian President Bashar Assad rejected US accusations that Syrian or Russian planes struck an aid convoy in Aleppo, blaming the US for the collapse of a cease-fire many had hoped would bring relief to the war-ravaged country.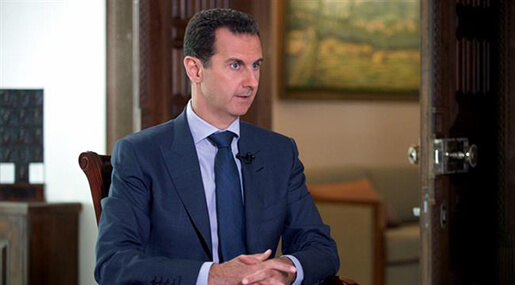 In an interview with The Associated Press in Damascus, Assad also said deadly US airstrikes on Syrian troops last week were intentional, dismissing American officials' statements that they were an accident. Assad said the US lacked "the will" to join forces with Russia in fighting extremists.
Assad said his enemies alone were to blame for nearly six years of devastation across Syria. He said the war was only likely to "drag on" because of continued external support for the Takfiri militantas.
"When you have many external factors that you don't control, it's going to drag on and no one in this world can tell you when" the war will end, he said, insisting Syrians who fled the country could return within a few months if the US, Saudi Arabia, Turkey and Qatar stopped backing insurgents.
In recent months, the Syrian Army forces had taken over militant strongholds in suburbs of the capital, bolstering security and reducing the threat of mortar shells.
The attack on the aid convoy outside Aleppo took place Monday night, hitting a warehouse as aid workers unloaded cargo and triggering huge explosions. Footage filmed by rescuers showed torn flesh being picked from the wreckage.
Assad dismissed the claims of a senior US administration official alleged that a Russian-piloted aircraft carried out the strike, saying whatever American officials say "has no credibility" and is "just lies." Like Syria, Russia has denied carrying out the convoy bombing.
On Sept. 17, US warplanes hit Syrian troops in the eastern province of Deir el-Zour. US officials alleged the attack – its first direct hit on Syrian forces since the conflict began – was accidental and that the warplanes thought they were targeting Daesh [Arabic acronym for "ISIS" / "ISIL"] group positions.
Russia said the strikes martyred more than 60 Syrian troops, and afterward, Daesh militants briefly overran government positions in the area until they were beaten back.
Assad said he did not believe the American account and said that attack targeted a "huge" area constituting of many hills.
"It wasn't an accident by one airplane… It was four airplanes that kept attacking the position of the Syrian troops for nearly one hour, or a little bit more than one hour," Assad said in the interview. "You don't commit a mistake for more than one hour."
"How could they [Daesh] know that the Americans are going to attack that position in order to gather their militants to attack right away and to capture it one hour after the strike?" Assad asked. "So it was definitely intentional, not unintentional as they claimed."
The strikes contributed to the collapse of the cease-fire, which had already been marred by numerous violations. They also cast serious doubt on chances for implementing an unprecedented US-Russian agreement to jointly target Takfiri militants in the country.
Assad said the United States lacked the will to work with Russia against extremists in Syria. "I don't believe the United States will be ready to join Russia in fighting terrorists in Syria," he said.
The Syrian president further condemned bias eyewitnesses saying, "Those witnesses only appear when there's an accusation against the Syrian army or the Russian [army], but when the terrorists commit a crime or massacre or anything, you don't see any witnesses… So, what a coincidence."
Source: News Agencies