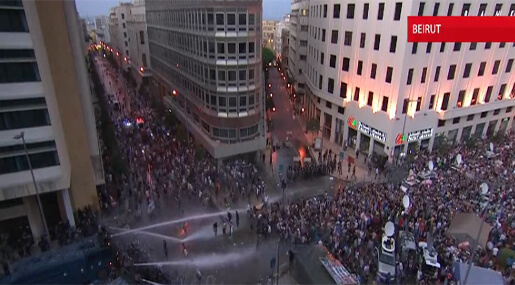 Local Editor
A protester was killed and 402 others were hurt over the weekend in clashes between riot police and anti-government protestors.
A security source revealed that the protester Rida Taleb died early Monday from a head injury sustained during Sunday's confrontation with police.
Meanwhile, the Lebanese Red Cross released a "final report" on Twitter early Monday that said 343 cases were treated at the scene in LRC field hospitals while 59 others were taken to local hospitals.
What began as a peaceful protest Saturday, organized by the "You Stink" movement, erupted into violence in Riad al-Solh and nearby Martyrs Square after riot police began using water cannons, tear gas and rubber bullets to disperse protesters trying to reach Nijmeh Square.
Protesters, angered by the police response, turned out in force again Sunday, in a largely peaceful protest that moved itself to Martyrs Square after some elements within the crowd began provoking a police response.
Those who remained in Riad al-Solh clashed with riot police on and off throughout the evening, setting street debris aflame amid a barrage of tear gas and water cannons. Around midnight the Army was called in to clear the area after the rioters began damaging public property, with several shop fronts smashed on Azariah Street.
A protest scheduled for 6 p.m. today was called off Monday morning.
Environment Minister Mohammed al-Mashnouq has said that the announcement of tenders for waste management in Beirut and Mount Lebanon was moved up to Monday afternoon instead of Tuesday.
According to as-Safir daily published Monday, Speaker Nabih Berri has urged Prime Minister Tammam Salam to mull ways to reopen the Naameh landfill in coordination with Progressive Socialist Party chief MP Walid Jumblat pending a solution to the crisis.
But it was not clear if residents living nearby, who say daily life is unbearable and allege gases produced by the site cause health problems, would accept such a decision.
Source: Al-Ahed news