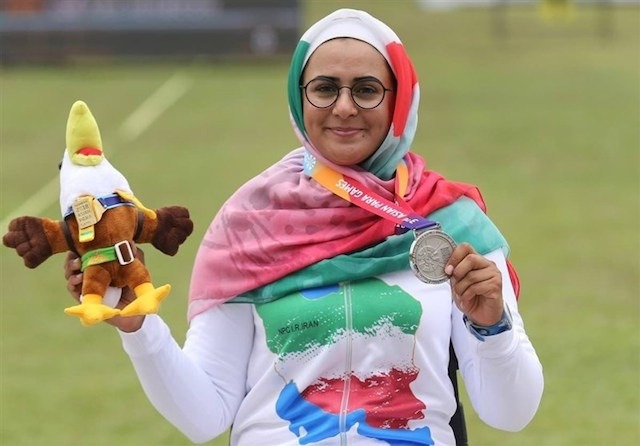 Tasnim – Iran's top Para archer Zahra Nemati urged women in Iran and globally to never forget their dreams and to have a hope for future.
"The most important thing is you need to have a goal and you should dream to achieve it. This is the goal that will give you happiness in your life," Nemati told Asianparalympic.org.
A trailblazer, a role model and a back-to-back Paralympic gold medalist, she was awarded 2021 International Women's Day Recognition as Next Generation Leader category on Monday.
She made it into the history books by competing at both the Olympic and Paralympic Games in Rio 2016, becoming the first Iranian athlete, the first Asian woman and only the 13th athlete in the history of sport to do so. Now Nemati is on a mission to motivate women with a disability globally.
Asked if that brings her extra responsibility, the 35-year-old said: "It's not a responsibility. I am thinking that there is a goal and I want to achieve it to inspire and motivate other women with disability to show them the way.
"I want to guide them; be a light for them. I want to set examples for others; for the women in Iran and globally," said the reigning Paralympic champion.
"I found Para Archery very interesting and attractive at the first instance. I like the challenges the sport unfolds; the challenges by the sport itself and by my opponents. Besides, it has brought to me a lot of honor and achievements in my life. So, Para Archery is special to me," she added.
"In fact, after the accident, my life changed completely – from one life to a very new one. And now I have a new characteristic, new personality. I can't say there are no problems, but with adaptations. I am living with it. And Para Archery gave a new meaning to my life. I was able to compete with abled body athletes, compete at the Olympics."
"Thus, I would like to once again state that sport is one of the strongest tools to overcome disability," Nemati went on to say.
Nemati repeated the feat in Rio 2016 and defended her gold medal and now wants to continue the momentum and repeat the performance yet again, at Tokyo 2020.
"After the London 2012 gold, it was very difficult to win again. Repeating the achievement was very difficult and I worked very hard for this. It was a very interesting challenge. And I want to continue repeating my achievements in Tokyo 2020 and further.
"I want to break the record, break the history at Tokyo 2020. In future, I want to build an Academy in Iran focus on educating and giving opportunity to girls and children and train them Archery," Nemati said.