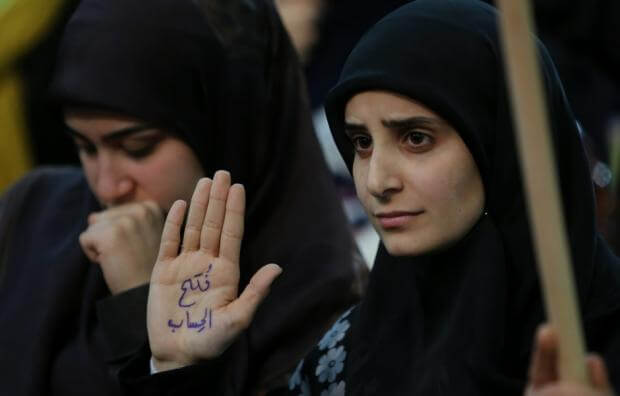 Al-Ahed News – Two weeks ago, a conference on the status of women in Islam was held in Tehran. Meeting the organizers was a chance to mingle and talk about the goal behind the conference and such events. It also gave al-Ahed news the opportunity to talk to a specimen of the Lebanese society who had come from Lebanon to take part in the conference; particularly the families of resistance martyrs. Roshanak Hoshyargar and Dr. Sumayeh Sarafraz are two ladies in their thirties who decided to establish an NGO that is dedicated to women and women's activities. They called their NGO 'Mahe Mastour' (Persian for Chaste moon), symbolizing purity.
"It all started when I listened to what the leader of the Islamic Revolution Ayatollah Khamenei had to say in 2012 on Women. I remember back then, he introduced the idea that women in Islam are neither Western nor Eastern; but they carry the values of Islam, which is what we see in Iranian women" she said.
In her opinion, a woman should enjoy characteristics like being religious, pious, pure, well-educated, and active and enjoy good manners. She should be able to participate in all fields of life and have an effective role too. Miss Hoshyargar said that the conference held was an attempt to show the true role models of Islam. Also, honoring the wives, daughters, mothers and sisters of Lebanon's Hezbollah martyrs and benefiting from their experience was part of the program.
She said "these women, even though they had lost their husbands who were defending the land and the people and fought for a righteous cause, they still put a smile on their face, play their role as mothers by raising their children, and take care of their role outside the family sphere where they pursue their education and participate in the different fields and contribute to society."
Her partner, Dr. Sarafraz shares the same opinion on the matter. Both ladies believe that women, in general, are the pillars of society. "Without active women in society, things would fall apart. Women play different roles that makes up their identity, and this does not contradict with Islamic teachings. On the contrary, Islamic teachings serve women's identity and role in life. We have to spread the word and make this 'neither West nor East' role model evident for everyone. And as we see, the families of Lebanese martyrs are one of the best examples of what women in Islam should be like."
The women who took part in the conference from Lebanon's Hezbollah were a few wives of martyrs, who gave their opinion on several aspects related to their role as women in Islam and women of resistance.
My journey just started…
Nisreen, the wife of martyr Mohamad Hussein Jouni, said her role after her husband had martyred was bigger. Who can pretend that when a loved person's soul rests in peace, there is no pain? The first thing she thought of was that he was martyred, and he will be missed badly.  However, she believes that his soul will be present in every aspect of life. She said that after his martyrdom, her real journey just started. She had a bigger responsibility to achieve and promises to keep.
Nisreen explained "My husband took good care of me. He always encouraged me, helped me with everything, with my education and life. He was a great man. He pampered me so much. However, when he was martyred, I was already prepared for this day. This is our belief, both of us, that when duty calls he will be there with other young men to defend the country, religion and the people. This is an aspect that some people might not understand. In our conceptual framework, we truly believe in fighting oppression no matter what the cost is."
"When a husband is martyred, his wife misses him, but life goes on and she has a bigger role to play, whether with the children at home or with people in society. Now, I am playing my role and my husband's at the same time, I am also raising our daughter who will also preserve our Islamic teachings."
Women, in her opinion, are not born to stay at home. Of course, her role as a mother and wife is very important. However, Nisreen also believes that a woman can also be an active member of society on the different political, social, cultural, artistic levels and other.
Referring to prominent Muslim scholars, she went on to say "Muslim philosopher and scholar Shahid Motahhari, founder of the Islamic Republic Imam Khomeini and leader of the Islamic Revolution Ayatollah Khamenei have all emphasized the lively role of women in Islam. It is a matter of balancing things. She must be able to fulfil her responsibilities inside her family and also play whatever role she wants in society. We see this example in Iran, where women are in active in politics, arts, culture, education, media and else. Nothing limits her and Islam serves and empowers her in fact."
Martyr Mohammad Hussein Jouni was an MA graduate from the American University of Beirut, and was about to go to France to pursue higher education when he decided to change his route. When he realized that a great threat called the Takfiri terrorist groups was looming in the horizon, he felt that duty was calling and prioritized this matter.
Nisreen, shedding light on Islamophobia and media propaganda, also said that people must not be judgmental or prejudice. "Unfortunately, many people across the globe misunderstand the reality of what a Muslim woman is like. They are misled by mainstream media, and I understand where they come from. When you read what mainstream media disseminates you are subject to media distortion of facts and realities. However, a wise person would try to look at things from up close or at least try learning from different sources about a certain matter. The same is the case of the Islamic Resistance in Lebanon or Hezbollah. People hear things here and there and do not know the real history behind its establishment or existence."
Following our role models in Islam…
Women all through the Islamic history have played an influential role along with men, for the most part, Khadija; the Prophet's wife, Fatimah A-Zahraa; the Prophet's daughter and later Zainab, the Prophet's granddaughter. These great figures, particularly Zainab have influenced Lebanese Resistance women in their revolutionary movement, which has been ongoing since 1982.
Safaa Mokalled, wife of martyr Mohammad Ahmad Issa for her part said that "the pivotal role of being a mother is still the divine mission assigned to women alone. A mother strives to nurture and teach a child, she explicitly makes the world a much better place. Women are actually given an opportunity and a privilege by God in being timeless teachers and the most influential educators. They bequeath to us timeless wisdom, a legacy so precious and valuable."
She, as a school teacher, has been working before her husband was martyred. When he was gone, she decided to quit work for two years, until her five children were stronger and wiser and could face life better. However, as soon as she felt that her role was fulfilled at home, she went back to work and divided her time again between inside and outside the house.
She and all the other ladies taking part in the conference emphasized the female role models in Islam, especially the daughter of Prophet Mohammad, Zahraa, and her daughter Zainab, who played a major role in the epic of Karbala in the Islamic history. Zainab had initiated a revolutionary movement throughout her outstanding life and attitudes. Women, from all walks of life, as men, are requested to effectively take part in the revolutionary anti-corruption movement, intended to establish strong legislation and enforcement against perceived endemic corruption and oppression.
In Safaa's opinion, it is not easy when a woman decides to play a role outside the house, but it is not impossible if she balances things. She must be well-educated, well-mannered, wise and smart. "A woman is already building a small society inside the house, and she can also play different roles in the bigger society." She ended noting that "Women are like the Quran; both have been assigned to guide humanity."
Martyrs' families: a role model to society
Batoul Moussawi, daughter of the Hezbollah Secretary General Abbas Moussawi who was assassinated by the 'Israeli' enemy back in 1992 by the 'Israeli' apartheid regime, for her part said that the families of the martyrs, including their wives, mothers, daughters and sisters are role models in the eyes of the society, which increases their responsibilities.
"Back in history, Zainab (sister of Imam Hussein) who accompanied him to the battle of Karbala, spread the truth across Mesopotamia and stood in face of the corrupt Emir of that time Yezid brought fear to the hearts of the enemies and the corrupt. Today, women in the resistance movement in Lebanon are the same, oppressors and enemies are afraid of them."
Women, in her opinion are the ones who build society, and this alone is an honor to her. "Owing to women in our society, we see fearless young men who are willing to sacrifice their lives to protect their people and country, and also protect their religion and beliefs. These are all graduates from the school of Imam Hussein. The mothers and wives are the ones who pack the resistance fighters stuff and wish them good luck and pray for them before they leave to the battleground. Women and men alike share the same beliefs and this is not surprising. Oppression and injustice is not acceptable. "
Batoul concluded "Zainab, sister of Imam Hussein said when her brother and family members were martyred in the epic of Karbala "O my Lord! Accept our humble sacrifice to You." This is a main drive that has a great impact on resistance women, despite the hardships and the hostility of the 'Israeli' enemy and the consecutive wars Lebanon has witnessed; they are ready to sacrifice to preserve freedom and for the sake of their cause."
Present in all walks of life…
Like the other women, Sara sees Zainab, the Prophet's granddaughter as a model of patience, endurance, injustice and defiance against oppression. Twenty-five year old Sara, whose husband Hussein Asaad, was also martyred when fighting the Takfiri terrorist groups like Daesh and al-Qaeda, who are backed by the US and its allies in the region believes that a woman should be wise and careful about her role as a mother, which is a privilege she was given.
However, she does not object women playing a role outside their homes. "We see the best example of what a Muslim woman is in Iran, where women are not limited to certain activities and are present in all walks of life. We see women in the military, in sports, and in the different fields. The leader of the Islamic Revolution Ayatollah Khamenei has encouraged her role as such."
She asserts that the leader of the Islamic Revolution, Ayatollah Khamenei says, "Men and women are no different when it comes to the ascendance of spiritual positions, the power of leadership, and the capability to lead humankind."
As for her personal experience, when her husband was first martyred it was painful. She knew she was never going to see him again and that he was going to be missed. Even though it was tough, she wanted to carry out her duty.
"My field of study, which is in education and school counselling, was my means to contribute to society. I want to have an impact on the lives of others, especially the children of martyrs. And here, I know this is a role I can fulfil to help build a stronger society. I study at the American University of Beirut, and I represent a Muslim woman at my university and society which have been struck with the waves of Westernization. My duty in addition to playing an effective role in society is to preserve my Islamic values and represent a true Muslim woman."
As the leader of the Islamic Revolution Ayatollah Khamenei explains "If we want our outlook towards the issue of women to be healthy, reasonable and precise, the first condition is that we should completely clear our minds of the statements that westerners make about women – about their employment, management and sexual equality. Equality is not tantamount to Justice."
Hezbollah has emerged as a resistance movement and a leading political party in the aftermath of the Lebanese civil war, which lasted from 1975 up to the early 1990s. Following the Islamic Revolution in Iran in 1979 and the 'Israeli' invasion of Lebanon in 1982, a group of young activists decided to stand in face of the 'Israeli' apartheid regime and defend Lebanon. Unlike what many in the West mistakenly think, the multi-roles of women in domestic and public sectors have basically affected the behavior, the structure, the function, and the construction of Hezbollah and the Lebanese society, and it has helped beat the once invincible 'Israeli' army.
These women, the activists who founded Chaste Moon or the few women who expressed their opinion on what a woman's real identity in Islam is said a lot, and they say even more with their actions. As for the wives of the martyrs, they show how Lebanese Resistance women understand the enemies' conspiracies and plots, thus they stand determinedly and steadfastly to safeguard their society in many different ways.
By Nour Rida