Rassegna Esteri
Who Was Sheikh Nimr? – A Grand Shia Clirec Who Summarily Executed by Saudis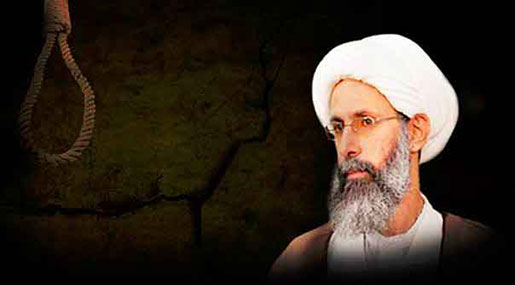 Local Editor
Nimr Baqr al-Nimr, commonly referred to as Sheikh Nimr was an independent Shia Sheikh in al-Awamiyah, Eastern Province, Saudi Arabia. He was popular among youth and critical of the Saudi Arabian government during the 2011–2012 Saudi Arabian protests.
The state-run Saudi Press Agency (SPA) and state television reported the executions Saturday, citing the kingdom's Interior Ministry,
Sheikh Nimr, a strong critic of the Riyadh regime, was shot by Saudi police and arrested in 2012 in the Qatif region of Shia-dominated Eastern Province, which was the scene of peaceful anti-regime demonstrations at the time.
He was charged with instigating unrest and undermining the kingdom's security, making anti-government speeches and defending political prisoners. He had rejected all the charges as baseless.
In 2014, a Saudi court sentenced Sheikh Nimr to death, provoking widespread global condemnations. The sentence was upheld last March by the appeal court of Saudi Arabia.
He is popular among youth and critical of the Saudi Arabian government during the 2011–2012 Saudi Arabian protests.
Sheikh Nimr Al Nimr a Shia Muslim cleric known for his sermons criticizing the kingdom's government and for his support of political protests .Iran has warned that executing Nimr "would cost Saudi Arabia dearly".
Amnesty International also criticized the process of Sheikh Nimr's trial and said it views the charges against the cleric as his right to free speech.
The death ruling sparked angry reactions from international rights bodies as well as many Muslim nations, including Iran, Iraq, Lebanon, Afghanistan and India, where people staged large protest rallies and called for the release of Sheikh Nimr as well as all political detainees in the kingdom.
Human rights organizations have lashed out at Saudi Arabia for failing to address the rights situation in the kingdom. They say Saudi Arabia has persistently implemented repressive policies that stifle freedom of expression, association and assembly.
The new announcement comes a day after a tally by The Associated Press, which was based on reports by Amnesty International, showed Saudi Arabia had carried out 157 executions in 2015, most of which were beheading by sword. This is a record of the most capital punishments conducted in a single year since 1995.
Source: Press Tv