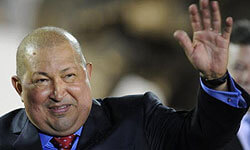 (FNA) – Venezuela is mourning its late leader and preparing to pick a new president to replace him, reports said.
Venezuelan officials called for peace and unity after President Hugo Chavez's death on Tuesday, emphasizing in state television broadcasts that all branches of the government and the military were standing together, CNN reported.
Elections will be held in 30 days, and Vice President Nicolas Maduro will assume the presidency in the interim, Foreign Minister Elias Jaua said in an interview broadcast on state-run VTV.
Tearing up as he announced Chavez's death after a long battle with cancer, Maduro called on Venezuelans to remain respectful. "We must unite now more than ever," Maduro said.
Former presidential candidate and opposition leader Henrique Capriles Radonski, said Venezuelans should come together. "This is not the time for difference," he said. "It is the time for unity. It is the time for peace."
Supporters of Chavez poured into a Caracas square soon after news of his death spread. Some wept openly. Others waved flags and held up pictures of the late president.
There were no reports of major violence, but there was palpable tension in the streets, as some Venezuelans heading home from work tried to steer clear of Chavez's fervent supporters.
Venezuela's military is in a "process of deploying … to ensure the safety of all Venezuelans" and to support the country's constitution in the wake of Chavez's death, said Venezuela's defense minister Adm. Diego Molero.
Venezuela's government has declared seven days of national mourning, Jaua said. At Venezuelan embassies around the world Tuesday, flags were flying at half mast.
Chavez's remains will be taken to a military academy in Caracas on Wednesday, Jaua said. There he will lie in state for three days. His state funeral will be held there on Friday morning, Jaua said.
The announcement of Chavez's death came hours after Maduro met with the country's top political and military leaders about Chavez's worsening health condition and suggested someone may have deliberately infected Chavez with cancer.
Chavez first announced his cancer diagnosis in June 2011, but the government never revealed details about his prognosis or specified what kind of cancer he had. Shortly before his last trip to Cuba for cancer surgery in December, Chavez tapped Maduro as the man he wanted to replace him.
"He is one of the young leaders with the greatest ability to continue, if I cannot," Chavez said.
Maduro made no mention of running for election in his public comments Tuesday, but he is widely expected to be the United Socialist Party of Venezuela's candidate for the job.
During Chavez's absence from the political stage over the past three months, Maduro has been front and center. He has spoken at political rallies around the country and delivered updates about Chavez on national television, drawing growing support from Chavez loyalists.
Opposition critics have said he was campaigning for office — a claim the government has denied. Even as Jaua said Tuesday that Maduro would temporarily assume the presidency, some critics questioned whether that was constitutional, since Chavez missed his inauguration and was never officially sworn in.
Opposition politicians haven't said who will represent them in the election. But as speculation mounted over Chavez's health in recent weeks, many had turned to Capriles, who lost to Chavez in October's presidential contest.
On Tuesday, Capriles called for a national dialogue including all Venezuelans, not just Chavez's supporters.
Word of Chavez's death drew swift expressions of sorrow and solidarity from regional allies.
Ecuador and Cuba both announced three days of national mourning to honor Chavez.
"The national government expresses its solidarity in light of this irreparable loss that puts the Venezuelan people and all the region in mourning and at the same time sends its heartfelt condolences to the family of the late champion of Latin America," Ecuador's foreign ministry said in a statement.