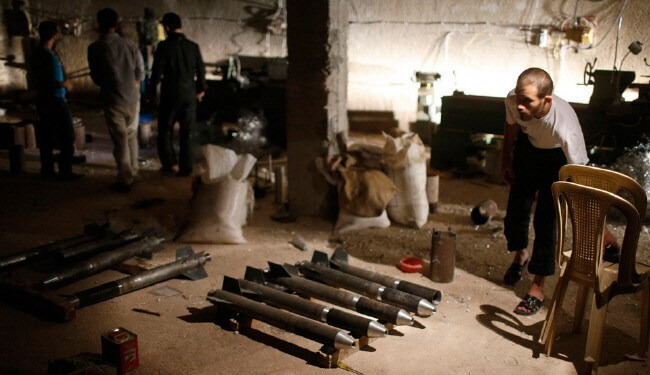 Washington and London says they have stopped providing non-lethal aid to the Syria militants via Turkey after al-Qaeda-linked extremists began taking control of several bases in northern Syria.
On Friday a group of radical militants seized several premises at the Bab al-Hawa crossing near the Turkish border, reported Reuters.
The group named 'Islamic Front' is formed of six major armed groups with strong links to Al-Qaeda and is believed to have captured warehouses with US non-lethal aid already delivered to Syria.
"As a result of this situation, the United States has suspended all further deliveries of non-lethal assistance into northern Syria," the US Embassy spokesman in Ankara said on Wednesday, stressing that humanitarian aid distributed through non-governmental organizations will not be impacted by the decision.
The diplomat also announced that an investigation into the incident is going "to inventory the status of US equipment and supplies provided to the SMC." The White House confirmed the decision later in the day.
The move was also shortly dubbed by Britain. The UK's Foreign Office said it is looking into the incident adding it "will not be making any deliveries of equipment" to the Syria militants while that investigation is underway. However, assistance might be resumed as soon as conditions on the ground could guarantee "safe delivery" of equipment.
It remains unclear what exactly was seized by the militants. Under US laws, non-lethal aid may consist of radios, intelligence assistance, body armor and medical supplies.
United States and its regional and Western allies have been supporting the insurgency against Syrian government which turned to an all-out war against Syria following foreign interferences that has led the war going on for more than two and a half years.
The US has been training militants in its military bases located in Jordan through CIA operatives.
The war in Syria started in March 2011, when pro-reform protests turned into a massive insurgency following the intervention of Western and regional states.
The unrest, which took in terrorist groups from across Europe, the Middle East and North Africa, has transpired as one of the bloodiest conflicts in recent history.
According to the United Nations, more than 100,000 people have been killed and millions displaced due to the turmoil that has gripped Syria for over two years.
– See more at: http://en.alalam.ir/news/1543723#sthash.u4ytsxfT.dpuf