Rassegna Esteri
US Military Says Iran Tested Rockets 1,500 near American Carrier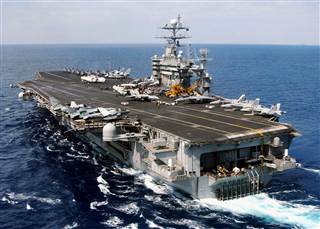 Local Editor
The US military said that Iranian naval vessels conducted rocket tests last week near American warships and commercial traffic passing through the Strait of Hormuz.
Cmdr. Kyle Raines, a US Central Command spokesman, said in a statement that Iranian Revolutionary Guard naval vessels fired "several unguided rockets" about 1,500 yards from the USS Harry S. Truman aircraft carrier, the USS Bulkeley destroyer and a French frigate, the FS Provence. Raines said commercial sea traffic also was nearby.
A US military official told The Hill newspaper that the Iranian ships approached the Truman and other vessels before announcing it was setting the live-fire exercise in motion and requesting nearby vessels to keep clear.
Just 23 minutes later, the Iranians repeated the warning and the rockets were launched. It was not immediately clear how many projectiles were fired. The Hill reported the ships departed the area after the launches.
Officials said the rockets traveled in a direction taking them away from the Truman and other shipping traffic in the strait, which connects the Persian Gulf to the Arabian Sea and is the route for nearly a third of all oil traded by sea.
Iran's "actions were highly provocative," Raines said. "Firing weapons so close to passing coalition ships and commercial traffic within an internationally recognized maritime traffic lane is unsafe, unprofessional and inconsistent with international maritime law."
Source: Al-Manar