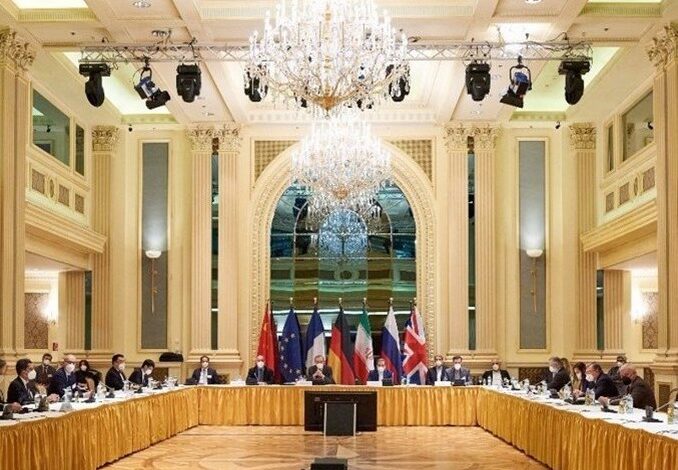 Tasnim – Iran's Deputy Foreign Minister Abbas Araqchi, who was heading the team of Iranian negotiators in a Tuesday meeting of the JCPOA Joint Commission, made it clear that the US must remove the anti-Iran sanctions altogether and in one step if it truly seeks to rejoin the nuclear deal.
In an interview with Press TV in in Vienna on Tuesday, Araqchi reaffirmed that the gathering did not feature any American representatives, and that it just involved Iran's discussions with the remaining JCPOA participants or the Group 4+1, namely Russia, China, France, the UK and Germany.
The remaining signatories "would then later talk with Americans. And that's their business. We're not engaged in that business. We only negotiate with the Group 4+1," he noted.
The Iranian deputy minister also reacted to the comments coming out of Washington alleging that Tehran's assertion that the US has to lift the sanctions first showed the Islamic Republic's lack of seriousness in the JCPOA's revival.
Such remarks, Araqchi said, are indicative of "a lack of seriousness on their (own) side since they have left the JCPOA, and they have imposed sanctions."
"That is quite logical and a very reasonable demand by the Islamic Republic of Iran," Araqchi said. "They (Americans) have left the JCPOA, and they have imposed sanctions. So obviously if they want to come back, they will have to lift all those sanctions, all together, in one step."
The Iranian negotiator noted that Iran had never sought to avoid compliance with the nuclear accord, saying if Tehran was after such a goal, it would have left the deal far earlier after Washington quit it. The JCPOA Joint Commission held its 18th round of talks in the Austrian city of Vienna, with representatives of Iran, Russia, China, France and the UK in attendance.
The US has been absent from the Commission and its discussions since 2018, when former American president Donald Trump took Washington out of the JCPOA and returned the sanctions that the nuclear accord had lifted.
Araqchi commented on a tweet by the Russian envoy to Vienna-based organizations, Mikhail Ulyanov, who has called the talks "successful." He said the parties to the talks "are on the right track," and Iran was likewise "hopeful," otherwise it would not join the negotiations. However, the official stated that the talks could only be described as a success if "the other side can meet our demands."