Rassegna Esteri
UN: Yemen Faces Severe Food Shortages, 'One Step' From Famine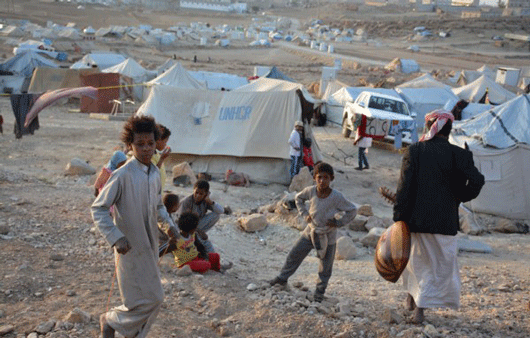 The director of UN humanitarian operations warned Tuesday that 7.6 million people in conflict-torn Yemen face severe food shortages and are "one step" from famine.
John Ging, who just returned from Yemen, told a news conference that there has been "a shocking fall off" in support from the donor community over the last few months for the millions of Yemenis who need food, clean water and basic health care.
The UN appeal for $1.8 billion (R27billion) to help more than 13 million Yemenis this year is just 16 percent funded, he said, despite Yemen being declared one of the UN's highest-level humanitarian emergencies.
Ging urged governments facing multiple demands for assistance not to forget Yemen. He said the United States, United Kingdom, European Commission and Japan had contributed to the 2016 appeal.
The biggest change from 2015, Ging said, was the absence of a contribution from Saudi Arabia which donated $245 million to last year's UN appeal. He said the donor base for Yemen must be expanded, saying Saudi Arabia, the Gulf States and many other countries were being contacted. He stressed that any contributions from parties to a conflict can't have strings attached.
A major focus of the UN humanitarian summit in Istanbul next week is humanitarian financing, he said, because UN appeals which cover minimum needs are being less than 50 percent funded and new ways must be found to provide life-saving support.
In the Yemen conflict, a Saudi-led, US-backed coalition supporting the government of fugitve yemeni president Abd Rabbu Mansour Hadi is battling the country's main opposition party, the Houthis Ansarullah movement, and its allies. The Houthis have held Yemen's capital, Sana'a, since September 2014, and their advance across the Arab world's poorest country brought the Saudi-led coalition into the war in March 2015. Ging said over 6,000 people have been killed, including 930 children.
Ging said over 10 million Yemenis need basic health care and over 7.6 million "are severely food insecure" – which "on the international index of food insecurity is one step below the level of famine."
"So it's a very fragile situation, and it's a huge number of people that are in that status," he said. "The nutrition situation in Yemen is also very acute," Ging said. "From January to April this year, over 56,000 children were found to be suffering from severe acute malnutrition."
He said the total number of children suffering from severe acute malnutrition is almost 180,000, but the UN has only been able to reach 32 percent of them.
Ging visited the city of Amran and viewed the devastating impact and "terrible consequences" of airstrikes, including on a cement factory where 1,500 people lost their jobs, as well as flooding which caused many homes to collapse. He said more than 300,000 people have been displaced into the impoverished Amran governorate, compounding the humanitarian problems.
Source: http://yemenwatch.net/essay.php?id=4129&cid=126&catidval=122