Rassegna Esteri
Two US Navy Boats in Iran's Custody after Entering Country's Waters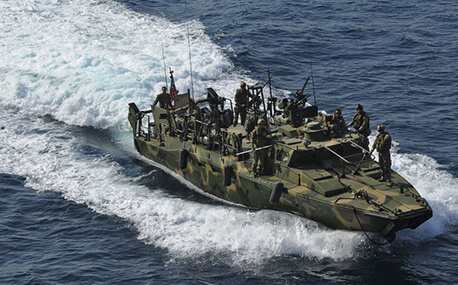 Local Editor
The Pentagon confirmed that two of the United States Navy boats are in Iran's custody after entering the country's waters and the crews will be returned "promptly."
The Associated Press quoted Pentagon spokesman Peter Cook as making the announcement on Tuesday. Cook has also claimed that he has been in contact with Iran and rested assured that they will be returned.
"We have been in contact with Iran and have received assurances that the crew and the vessels will be returned promptly," said the spokesman.
The boats were said to have been moving between Kuwait and Bahrain for a training mission.
US Secretary of State John Kerry also contacted Iranian Foreign Minister Mohammad Javad Zarif upon learning the matter. Kerry "personally engaged with Zarif on this issue to try to get to this outcome," an official said.
He later told CNN that he expected the sailors to be released "very soon." Ten US Navy sailors manning the crafts were said to be in Iran's custody.
"Some type of mechanical trouble with one of the boats" was mentioned in the AP report as the reason for drifting into the Iranian waters; therefore, the troops were "picked up" by Iranian forces, who transferred them to the nearby island, where they remained at least for some time.
Rear Admiral Ali Fadavi, the chief of Islamic Revolutionary Guards Corps' Navy, talked about the incident with the American boats in a live interview on state TV.
Fadavi dismissed reports that the ten American troops detained by the IRGC would soon be released as "speculation." He said they would be questioned and warned that Iran would "act properly" if it concludes that the boats entered Iranian waters on an espionage mission rather than by accident.
According to official Sepah News, the Islamic Revolution Guards Corps [IRGC] Navy forces seized the boats. The website added that the American troops, who possessed heavy weapons, are "in full health."
The White House also said it was aware of the matter with deputy national security adviser Ben Rhodes saying that the administration was working to resolve the situation. White House spokesman Josh Earnest appeared on CNN, where he echoed Cook's comments.
"We have received assurances from the Iranians that our sailors are safe and that they will be allowed to continue their journey promptly," Earnest said. "And we have also more importantly received assurances that they will be allowed to continue their journey promptly. So you know, the substance of the communications we have received with the Iranians so far today and it is a situation that we are going to continue to watch closely."
The US War Department released a video showing the type of crafts, Navy Riverine Command Boats, seized in Iran.
Source: Al-Ahed news