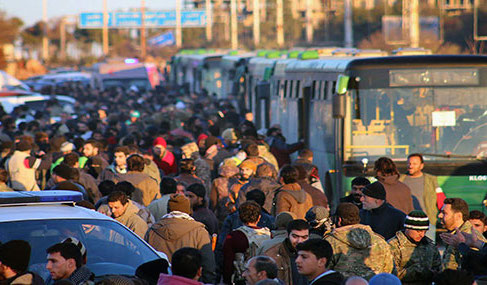 A total of about 3,500 militants and their families have been evacuated from the eastern part of the embattled Syrian city of Aleppo.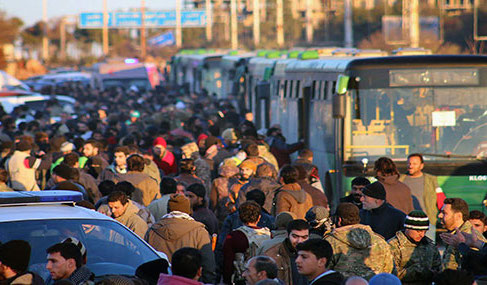 The militants along with their families have been transferred from Aleppo's eastern side in 65 buses to the city's western half since the early hours of Monday. Meanwhile, the so-called UK-based Syrian Observatory for Human Rights said on Monday that an estimated 500 people had been taken out of the two besieged Shia villages of al-Fou'a and Kafarya in the neighboring Idlib Province.
Recently, Russia and Turkey reached a deal enabling the evacuation of thousands of trapped civilians and militants from Aleppo. The process was, however, halted after the militants violated the ceasefire deal and blocked the transfer of civilians from al-Fou'a and Kefraya. On Saturday, it was reported that the government and the militants were working on a new deal to resume evacuations from the villages as well as two towns near the Lebanese border.
The evacuations, which were initially set to start earlier on Sunday, were postponed after the militants attacked and burned around 20 of the buses that had arrived to transport people out of the two villages. Takfiri militants seized Aleppo back in 2012. The city was recently restored to government control on the back of a month-long military operation. The Syrian government is now in control of all major cities. Meanwhile, the United Nations Security Council is scheduled to vote on a draft resolution on Aleppo evacuations at 9:00 local time [1400 GMT] in New York.
Russia's Ambassador to the United Nations Vitaly Churkin said on Sunday that Moscow has composed a "good" draft resolution together with Paris on a UN monitoring process to ensure safe evacuations out of Aleppo.
Source: News Agencies