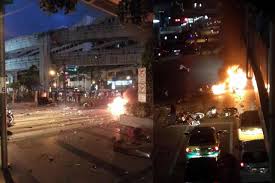 Thailand's junta leader said Tuesday a suspect had been identified in the bombing of a packed Bangkok religious shrine, condemning the blast that killed at least 20 people as the "worst ever attack" on the kingdom.

The attack occurred on Monday in one of the Thai capital's most popular tourism hubs, ripping through a crowd of worshipers at the Hindu shrine close to five-star hotels and upscale shopping malls.

Chinese, Hong Kong, Singaporean, Indonesian and Malaysian citizens were among the 20 people killed, police said. More than 100 other people were injured as the blast left body parts strewn across crushed pavement, alongside shattered windows and incinerated motorcycles.
Junta chief Prayut Chan-O-Cha on Tuesday branded the bombing the "worst ever attack" on Thailand, as he gave the first indications of who authorities believed were responsible.
"Today there is a suspect… we are looking for this guy," Prayut told reporters, adding the man was seen on closed circuit television at the blast site.
Prayut said the male suspect was believed to be from an "anti-government group based in Thailand's northeast" – the heartland of the kingdom's Red Shirt movement that opposes the military junta.
Bangkok has endured more than a decade of deadly political violence, with the junta ruling the nation since May last year after toppling the elected government of Yingluck Shinawatra.
The Red Shirts are a grassroots network of rural and urban poor that are loyal to Yingluck and her self-exiled brother, Thaksin Shinawatra, a populist politician who was a previous prime minister.
But no-one claimed responsibility for the assault and security analysts expressed scepticism over the government's lightning move to cast suspicion on its opponents.
"Even if they [Red Shirts] are hell-bent on bringing down the government I just can't see them targeting a Hindu or any other religious shrine," Zachary Abuza, an independent expert on Thai security," he mentioned. "That would really alienate many of their supporters."
Junta leaders said the bomb was aimed at damaging the country's tourist industry, which is a rare bright spot in an otherwise gloomy economy, and tarnishing the junta's reputation.
"[The attackers] had the clear target of destroying our economy and tourism…. and discrediting the government," Defense Minister Prawit Wongsuwon told reporters.
Thailand's baht currency slumped to a more than six-year low on Tuesday and shares fell in Bangkok over concerns the attack could damage the tourism sector.
Source: Al-Ahed news