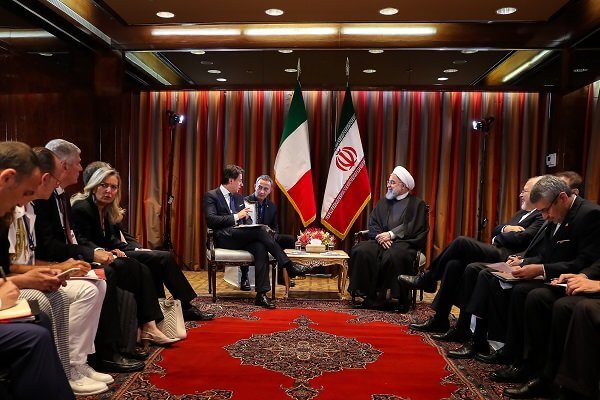 Mehr News Agency – In a meeting with Italian PM in New York, President Rouhani described Iran-Italy relations long-standing and strong, adding, "Iran welcomes deepening Tehran-Rome relations in all fields of mutual interest."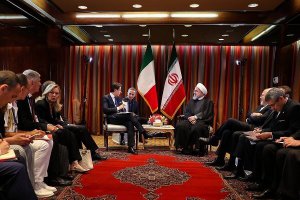 According to the official website of Iranian presidency, in a meeting with Prime Minister Giuseppe Conte of Italy on Wednesday in New York, Iranian President Hassan Rouhani appreciated Italian government and nation's condolences over the terrorist attack in Ahvaz, saying, "killing 24 innocent people, including a four-year-old child in Ahwaz terrorist attack indicates that we must work harder in fighting terrorism".
"Currently, Italy is Iran's greatest trade partner in Europe and I am sure that we can further develop economic and trade relations," continued Rouhani. He also referred to the broad agreements between the two countries, adding, "Full implementation of these agreements will make a great development in our relations."
The Iranian President went on to bring up the issue of the Joint Comprehensive Plan of Action (JCPOA) and the United States' unilateral withdrawal from it, saying "what US did was insulting United Nations and independence of countries and we are happy that the EU and Italy have taken good stances in defending the deal, but of course, Europe should take more practical and quicker measures in this regard."
On the US' double standards vis-à-vis Iran, he continued, "Americans make threats on one side, and send messages of dialogue from different ways, ignoring the fact that negotiation in such an atmosphere will be meaningless."
"The Iranian nation have experienced harsher sanctions before and we will counter the current illegal, inhumane sanctions of the United States, but in the meantime, the world should send a clear message to the US that the way it has chosen is futile," said Rouhani.
The Italian Prime Minister, for his part, expressed satisfaction over the long-standing relations between the two countries, adding "the strong ties between Iran and Italy, not only in the commercial, but also cultural fields has made bonds between the two peoples stronger."
Giuseppe Conte said "Italy is ready to enhance its level of cooperation with Iran, and despite the problems that the United States has created for the JCPOA, we will never allow Tehran-Rome relations to be undermined for any reason."
He added "for Italy, JCPOA is the fruit of many years of dialogue and struggle in the international community and a solid foundation for the development of international relations, and the only way ahead of us is to maintain this agreement and we believe that international agreements should be fully respected."