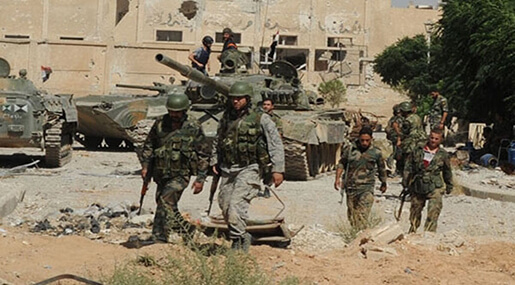 Local Editor
Syrian army forces were poised to launch an assault to retake the Daesh-held city of Palmyra, as Washington and Moscow meet Thursday to discuss the fraught peace talks.
Daesh [Arabic Acronym for the terrorist "ISIS" group] overran the city dubbed the "Pearl of the Desert" last May, and it has since blown up UNESCO-listed temples and looted relics dating back thousands of years.
Its recapture would be a strategic as well as symbolic victory for Syria, since whoever controls it also controls the vast desert extending from central Syria to the Iraqi border.
The Syrian Army backed by Russian airstrikes were "800 meters from Palmyra" and now control areas linking it to Damascus and Syria's third city Homs, a Syrian security source said. "The army is now at the southern and southwestern entrances to the city and is preparing to begin the battle to liberate Palmyra," the source said.
Rami Abdel Rahman of the so-called Syrian Observatory for Human Rights said earlier Wednesday that government forces were two kilometers south of Palmyra and five kilometers southwest of the city.
Meanwhile, there is some hope that high-level US-Russian meetings Thursday could deliver the momentum needed to move the Geneva peace talks to a new round.
US Secretary of State John Kerry will meet President Vladimir Putin and Foreign Minister Sergei Lavrov to gauge whether Moscow is ready to discuss ways to ease its ally Assad from power.
With the indirect negotiations in Geneva proving to be sluggish, all eyes are on Moscow since the two powers hold significant sway over the opposing sides in Syria's devastating conflict.
UN envoy Staffan de Mistura voiced "a strong expectation that the talks in Moscow will be productive." When the two top diplomats reach a "common understanding", the process is helped "enormously", the envoy said.
But Damascus's lead negotiator at the Geneva talks, Bashar al-Jaafari, insisted that thinking that the government could be pressured by its Russian ally was a "misreading" of the situation.
"When we say that the dialogue must be between Syrians, without outside intervention, this also applies to the Russians and Americans," he said.
Source: