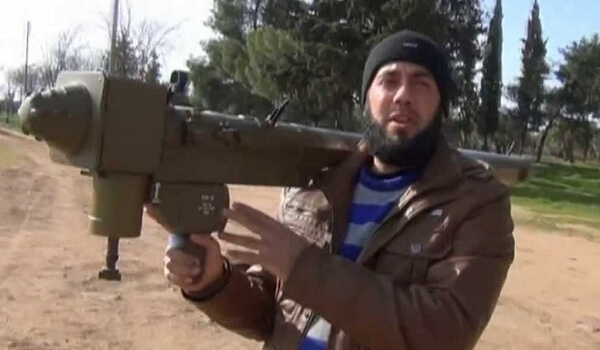 The militants in Syria have gained access to anti-aircraft missile systems, the Arabic-language media outlets reported. The anti-aircraft missiles are reportedly Chinese made with FN6 labels on them.
There have been different reports on the crash of a fighter jet in al-Eis town in the Southern part of Aleppo on April 5 with Ahrar al-Sham Movement announcing that it had targeted the military aircraft with its surface-to-air missiles.
However, the ISIL said that it had hit the fighter jet with FN-type thermo missile. Meantime, Al-Nusra Front terrorist group on its twitter page wrote that Ahrar al-Sham had managed to shoot down the warplane in a thermo missile attack.
The Saudi foreign ministry has on different occasions announced that Riyadh will equip the Syrian opposition forces with anti-aircraft missile attacks if the political talks fail.
Also, the Russian Sputnik news agency reported that it had gained access to an audio file from a battlefield source. The terrorist commanders spoke over wireless saying that a terrorist group had received 85 anti-aircraft thermo missiles.
The battlefield source told Sputnik that where the conversation had been recorded Jeish al-Fatah is in control. The Syrian opposition forces have released the picture of a militant carrying the FN6 anti-aircraft missiles.
Political activists believe that two warplanes have recently been shot down by the same missiles. There are also YouTube films which show the militants firing  the same missiles.
The pictures of the terrorists carrying anti-aircraft missiles were also published after the large-scale smuggle of missiles from Libya to Syria. The Algerian Defense Ministry also issued a statement on April 7 about the smuggle of anti-aircraft missiles from Libya to Syria.
In a relevant development in March, the Syrian army troops informed by the intelligence agents and local forces in the Southern part of the country, seized two trucks of arms cargos, including US and Israel-made mines, in two parts of Sweida province.
The cargos of militants' weapons and ammunition, including RPG, landmines and various types of ammunition, were seized by the Syrian army in two separate operation in the Eastern and Northeastern deserts of Sweida province.
There were 90 anti-tanks Israeli and US made mines, 25 RPG Shells and a number of BKS machinegun boxes in the seized cargoes.
Source: Fars news