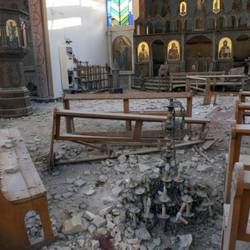 Nearly 1,000 Christians have been killed and over 450,000 of them displaced in Syria due to the crisis plaguing the country, says a prominent Christian figure.
"As we know, there are 120,000 Syrians killed in the 3-year-long crisis, including Syrian Christians. Maybe the Christians among the killed amount to 1,000," Patriarch of the Church of Antioch, Gregory III Laham, told Xinhua on Thursday.
"There are also nine million people displaced inside and outside Syria, 450,000 of whom were Christians," added the Christian leader.
Some 1.8 million Christians reside in Syria, making up about 10 percent of the country's population. The religious minority has been subjected to numerous attacks by extremist groups since the outbreak of violence in the country in March 2011.
Laham went on to say that Takfiri militants operating in Syria have so far "destroyed," "burned" and "sabotaged" 85 churches across the country, stressing that the turmoil "has tragically targeted all the Syrians with all of their sects."
"Talks about the inter-fighting among the Syrians are not accurate. There are external parties that have been running the conflict. Those parties are… stronger than any opposition, so the issue is not purely Syrian but a war against Syria from the outside," the Patriarch stated.
In late October, the Syrian army managed to take back control of the ancient Christian town of Sadad, situated north of Damascus, from al-Qaeda-linked militants.
Also in September, members of the al-Nusra Front terrorist group briefly took over the Christian town of Ma'loula, which is home to two of the oldest surviving monasteries in Syria. Syrian troops have managed to recapture most areas of the town.
Christians held a demonstration outside a cathedral in Damascus on October 27, calling for the release of their relatives from the 'hands of the armed groups.'
– See more at: http://en.alalam.ir/news/1546432#sthash.kVNMHCRT.dpuf