Rassegna Esteri
Sayyed Safieddine: Resistance to Progress despite Adversity, Syrian Regime Still Enduring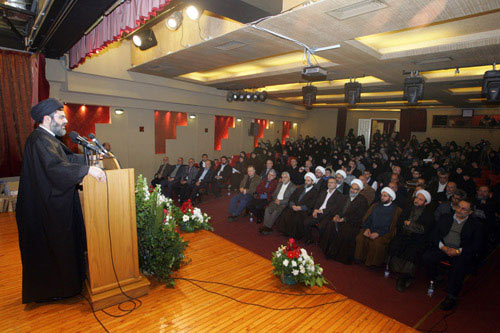 Head of Hizbullah Executive Board, His Eminence Sayyed Hashem Safieddine reiterated that "No electoral law guarantees true representation like a proportional electoral law". 
His Eminence underscored that true representation is by one constituency is providing true national representation, whereas the Orthodox law only offers a sectarian proportional law. "There are many challenges that we stern face, as we have before, and we are confident of triumph in these challenges", Sayyed Safieddine added. Deliberating the region's situation, His Eminence saw that the U.S. seeks to compensate its weakness apparent in its abilities on the regional level, where presence of U.S. agents, weaponry, and military control weakened palpably. Moreover, the Head of Hizbullah's Executive Board stated that the region's events are due to the U.S. Puppets in Iraq, Syria, and the whole region, aiming at dragging the region to Sectarianism.He added, "The resistance will move forward in spite of Adversity", emphasizing, "The West's strength in our region is diminishing and the Zionist entity is Waning." "We Learnt from the Holy Quran that the nation that holds its righteous weapon and sacrifices without reluctance will eventually achieve its goal, "Sayyed Safieddine stressed.
However, speaking on the Syrian affair, His Eminence stated, "After two years, to all those who bid that the Syrian regime will collapse in weeks or months so they could establish a base in Lebanon and the region, we tell them you have lost the bet, "Accentuating", the evidence is that the Syrian regime is still enduring and strong, and all pressures were not able to overthrow this regime. " 
"We must handle Lebanese domestic affairs away from Syria", Sayyed Safieddine reiterated.