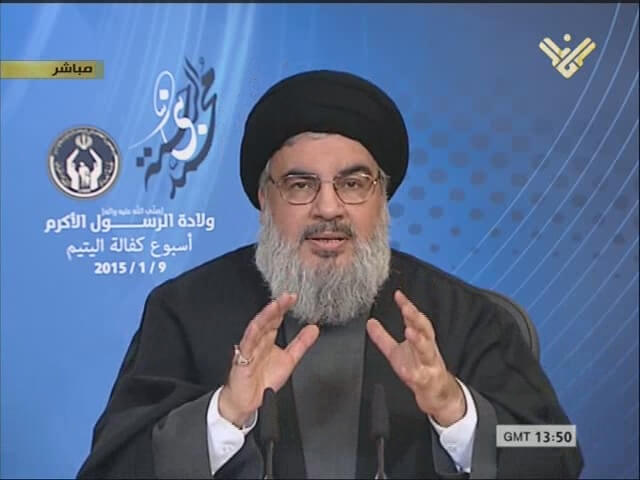 Hezbollah Secretary General Sayyed Hasan Nasrallah stressed Friday that terrorist groups are offending the Messenger of Allah – Prophet Mohammad (pbuh) – by their shameful actions, especially when they "behead thousands of people and kill thousands of people in Yemen for commemorating the Prophet's birth anniversary."
"Those offensives are supported by being easily circulated across several geographical locations, starting from Afghanistan, Syria and Iraq, to the states that facilitated visas for terrorists to travel into our country."
During a celebration ceremonies marking the auspicious anniversary of the Birth of the Holy Prophet Mohammad (PBUH) and his grandson Imam Ja'far Al-Sadeq (as) in Beirut's southern suburbs (Dahiyeh), Sayyed Nasrallah stated that the Islamic nation must get united in the face of terrorist practices – which are unparalleled in history – and in denying them any link to Islam, and also in working to isolate terrorist groups and eliminate them.
"Today I tell you very clearly that those groups pose a threat to countries of the region for today and tomorrow. It became clear that those groups pose a threat to Islam itself as a religion and a mission, to the Messenger and to the Qura'n."
Domestically, Sayyed Nasrallah expressed beliefs that the newly-held national dialogue between Hezbollah and Al-Mustaqbal Party is very serious, very positive and serves the interest of Lebanon.
"We know it is hard to reach a comprehensive agreement, but we want to agree upon what it can be agreed upon, and to classify our disagreements within certain frames," Sayyed Nasrallah said, adding that "some people cannot stand a Muslim-Christian dialogue and want a Muslim-Christian war, and the fool takfiri groups are helping them."
His eminence underlined that dialogue with Al-Mustaqbal party is not acting on behalf of the rest political forces in Lebanon, but a way for holding a comprehensive national dialogue gathering all other parties, stressing that as foreign countries are preoccupied by other files, the Lebanese people should name the new President in a serious endeavor to end the internal dispute.
Sayyed Nasrallah highlighted the calm security situation in Lebanon during the past months, hailing the efforts of the Lebanese security forces in this regard, and calling upon the local mass media not to contribute to the psychological war launched by the takfiri terrorist groups against the Lebanese people especially in what related to the kidnapped soldiers.
"Terrorists are not capable of implementing extensive operations in Arsal Barrens (in east Lebanon) as media circulate and they couldn't recover any single town – i.e. Fleita, Jebba or Assal al-Wared – despite all their efforts over the past few months," he stated.
Touching on the departure of Lebanese ex-PM Omar Karami, Sayyed Nasrallah considered the late official as an example of the true national and supportive of the resistance movements in Lebanon and Palestine, and an example of the noble political figure. We hereby hope that his son will follow his path.
Friday's celebration has been organized by Hezbollah-led Al-Emdad Islamic Charitable Association, that is responsible for securing basic life requirements for needy individuals and families.
"I appreciate every member of Al-Emdad Association – whether working in Iran or in Lebanon – for their efforts to take care of orphans and needy families," his eminence said.
Turning to the Bahraini revolution, Sayyed Nasrallah considered the arrest of Secretary General of Al-Wefaq opposition group – Sheikh Ali Salman – a very serious step that implies the Bahraini authorities have reached a deadlock.
"The people of Bahrain have legitimate rights. They decided to launch peaceful revolution in contrary to other movements in the world. They are shot but they didn't shoot (a bullet). They were killed on roads but they didn't kill anyone, and held no knife. They insist on peacfulness and embarrassed the authorities more. Leaders of opposition, headed by Sheikh Issa Qassem, as well as Al-Wefaq group headed by Sheikh Ali Salman – are agreed upon the peaceful dialogue," Sayyed Nasrallah went on to say.
Hezbollah Secretary General at the practices carried out by the Bahraini authority that attack the dignity and sanctities of its people, who didn't resort to violence despite being killed in the streets, noting that the monarchy rulers are talking about a formal dialogue and not a real one, "but the opposition always talks about dialogue while authorities always avoid it."
"In Bahrain, there are people who are still demonstrating since four years. This is unique and different model in the world. Movements in all world arenas descended to violence except this arena (Bahrain), not because weapons cannot be used in Bahrain or arms and fighters cannot be delivered to it… but because of the will of clerics and political leadership that insists on the peaceful course," his eminence revealed.
"World governments, and many of those who stood with the Arab Spring, stop at Bahrain and the injustice against the Bahraini people," his eminence said.
Moreover, Sayyed Nasrallah voiced beliefs that a project similar to the Zionist scheme in Bahrain. There is colonization in Bahrain, and it is invaded as people from all over the world are being brought and nationalized and employed, while the original nationals are deprived of the most basic rights.
"The day will come when Bahrain will be dwelt by another people, just like the Zionists in Palestine inhabited it."
Sayyed Nasrallah saluted all Muslims across the world, along with the Lebanese army and Hezbollah Mojahedeen who are fighting on the borders to protect Lebanon and defend their people defying the cold weather, on the Prophet's birth, as well as on the birth of Prophet Jesus (as).
"The Messenger of Allah was the greatest manifestation of the divine mercy in this universe. He was the mercy of Allah to human beings in this world and in the hereafter," Hezbollah Secretary General stated.
Source: Al-Manar