Rassegna Esteri
Saudi Arabia must be accountable for deadly hajj disaster in Mina: Iran's Deputy FM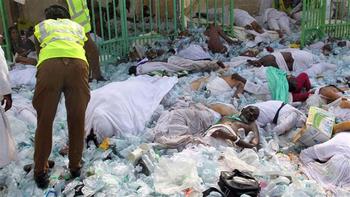 "It took the rescue workers two hours or more to arrive at the scene.The rescue workers, who were just a few, started collecting dead bodies instead of taking care of the injured," he said on Friday.
In the meantime, "the people themselves, mostly Iranians, helped each other," the survivor said.
"I mean there was nobody to help us. A number of Iranian pilgrims climbed up the fence and threw water bottles for others. Some people on the ground attended to those who were injured, the children, and the elderly. We repeated doing these things for two hours until they (first responders) arrived," he said.
The incident occurred in Mina, near Mecca, at 9 am local time (0600 GMT) on Thursday after two large masses of pilgrims fused together.
Iran's Hajj and Pilgrimage Organization says the tragic incident claimed the lives of more than 1,300 people, including 131 Iranians. Saudi officials, however, put the death toll at 717.
Saudi Arabia has come under mounting criticism following the catastrophe.
Leader of the Islamic Revolution Ayatollah Seyyed Ali Khamenei has declared three days of national mourning following the disaster. Iran's President Hassan Rouhani has also asked Riyadh to take responsibility for the disaster and fulfill its legal and Islamic obligations in this regard.
Arabic-language daily al-Diyar has said the presence of the convoy of Prince Mohammad bin Salman Al Saud, the son of Saudi King Salman bin Abdulaziz Al Saud, in the middle of the population prompted a change in the direction of the movement of the pilgrims and the subsequent crush. It said Salman had sought to attend the huge gathering of pilgrims in Mina.
Source: Press Tv