Rassegna Esteri
Russian Warplanes Destroyed 819 ISIL Targets in Syria Since Operation Began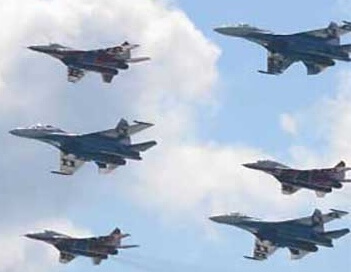 Fna – The Russian air group in Syria has carried out 934 sorties for less than a month, the General Staff said Thursday.
Since the beginning of its operation in Syria on September 30, the Russian Aerospace Forces have carried out 934 sorties in Syria, destroying a total of 819 terrorist facilities, the Russian General Staff said Thursday.
Terrorists in Syria have lost striking capabilities amid the Russian airstrikes and are deserting en masse to Turkey and Jordan, Andrey Kartapolov, head of the Russian General Staff Main Operations Directorate said. "The Syrian Army continues its offensive in the provinces of Aleppo, Latakia, Idlib, Homs, and Damascus," Kartapolov said.
"Combat opeartions are being conducted around those locations where the Russian aviation is not used, while the Syrian Army uses its heavy artillery against concealed fire units," he elaborated. Russian forces have struck a bridge over the Euphrates river in Syria's Deir Ezzur province, cutting off supplies for ISIL militants from Iraq, Kartapolov said.
"A key part of the supply chain is a bridge across the Euphrates river in the region of Deir Ezzur. Today, Russian pilots carried out a surgical strike on this object, which resulted in the bridge becoming impossible to use for terrorists," he told reporters.
According to Kartapolov, this supply route from Iraq was located by Russian drones. "I wish to underline that the strike was carried out in an area, which, according to our American partners, is under the complete control of ISIL units," he noted. Some field commanders are beginning to propose local ceasefires and negotiations to the Syrian Army, he added.
Russia started precision airstrikes against ISIL targets in Syria on September 30, following a request from Syria's internationally recognized government. The Russian airstrikes hit targets that are chosen based on intelligence collected by Russia, Syria, Iraq and Iran.