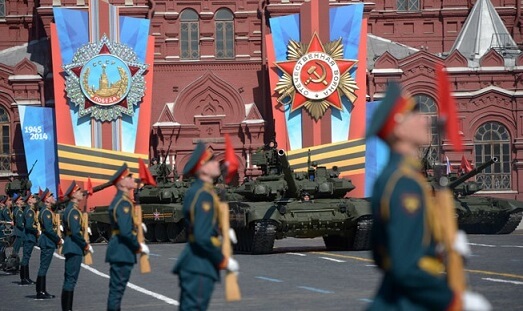 Russian President Vladimir Putin on Friday hailed all-conquering patriotism as thousands of Russian troops marched through Red Square celebrating victory in World War II.
"This is a holiday when all-conquering patriotic force triumphs, when we all feel especially strongly what it means to be true to the Motherland and how important it is to be able to stand up for its interests," Putin told massed troops to shouts of "Hurrah! Hurrah!"
"Sixty-nine years have passed since the end of the Great Patriotic War. But May 9 has been and will be our main holiday," said the head of state in his address at the Victory Day parade in Moscow's Red Square on Friday.
"It is a day of national triumph and national pride, a day of grief and everlasting memory," he said.
The traditional May 9 military parade on Moscow's Red Square featured 11,000 troops, 149 military vehicles and 69 warplanes.
The clock on the Kremlin's Spasskaya tower rang its chimes at 10:00 AM Moscow time to signal the start of the Victory Day parade.
Similar Victory Day celebrations were planned for later Friday in Sevastopol, with Russian media reporting that Putin could make a triumphant appearance at the Crimean port.
Russia's annual parade celebrating victory over the Nazis held special resonance this year amid the crisis in Ukraine, which has seen Russia annex Crimea and fighting in pro-separatism areas in the east where activists are threatening to break away.
Live announced on Thgursday it was going on with its deadly offensive against separatists, as the pro-Kremlin activists insisted that the independence vote is to take place as scheduled on Sunday.
The European Union voiced concern over the referendum, saying it would worsen the situation in Ukraine.
For his part, Ukrainian Prime Minister Arseniy Yatsenyuk said he fears recent softer comments from Putin are a prelude to provocation.
"I am concerned about Vladimir Putin's statement. It caused a bad feeling. They say one thing and do another. After this statement, I asked law enforcement officers to strengthen security measures on May 9," Yatsenyuk told Ukrainian television.
On Wednesday, the Kremlin strongman stunned the world with an abrupt U-turn on Ukraine, calling on pro-Russian separatists in the east to delay independence referendums planned for this weekend and welcoming a May 25 presidential election.
Source: Al-Manar