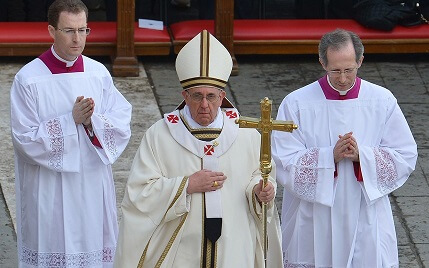 Pope Francis urged the international community to "prevent violence" in Ukraine in his Easter Sunday message after pro-Russian insurgents in the east of the country reported four people killed in a gun battle.
"We ask you to enlighten and inspire the initiatives that promote peace in Ukraine," the Catholic leader said in his prayer for the holiday, which this year coincides with Easter in the Orthodox calendar.
Francis asked that "all those involved, with the support of the international community, will make every effort to prevent violence and in a spirit of unity and dialogue, chart a path for the country's future".
The Vatican said 150,000 people crowded into St Peter's Square and the main avenue leading up to it for the Easter mass and the pope's traditional "Urbi et Orbi" blessing to the city of Rome and to the world.
The Argentine pope also urged "reconciliation and fraternal concord" in Venezuela, where a Vatican envoy has taken part as a moderator in negotiations to end a stand-off between the government and the opposition.
On Syria, where a raging three-year conflict is estimated to have killed more than 150,000 people, the pope said it was time for warring sides to "boldly negotiate the peace long awaited and long overdue".
The pope also prayed to "enable us to care for our brothers and sisters struck by the Ebola epidemic in Guinea Conakry, Sierra Leone and Liberia", saying the disease had spread through "neglect and dire poverty".
Dozens of people have died this year in West Africa of the virus for which there is no vaccine or cure and which can only be stopped by isolating suspected cases and quarantining anyone in contact with them.
Pope Francis also prayed for an end to "brutal terrorist attacks" in Nigeria and to the ongoing violence in Central African Republic and South Sudan.
He also pleaded for Middle East peace negotiations, which have been  overshadowed in recent days by clashes between Palestinian protesters and Zionist police in the Al-Aqsa compound in Jerusalem's Old City.
Source: Al-Manar