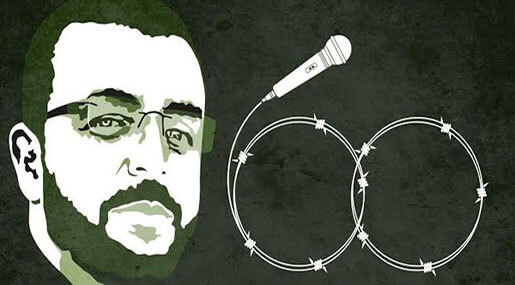 Local Editor
The lawyer and family of Palestinian detained journalist Mohammed al-Qiq, on hunger strike for over two months in an "Israeli" prison, said he had lost his power of speech.

The lawyer further added that his client's condition is "very dangerous," noting that "he lost his ability to speak and 60 percent of his hearing."
Al-Qiq can now just communicate through signs, lawyer Jawad Boulus said, adding that the 33-year-old father of two and correspondent for an Arabic TV network, is still conscious and refusing medical treatment.
Boulus' announcement came after he visited al-Qiq at the Emek Medical Centre in the northern "Israeli" occupied city of Afula where he was transferred because of his worsening health condition.
Although he appealed his internment on January 27, yet the Zionist Supreme Court refused to order his release. Al-Qiq was arrested on November 21 last year at his home in the occupied West Bank city of Ramallah.
For its part, the Palestinian rights organization Addameer said al-Qiq has been refusing food since November 25 to protest his detention without trial or charge. He is also protesting against torture and ill treatment that he was subjected to.
Back in 2008, the "Israeli" authorities sentenced al-Qiq to 16 months in prison on charges linked to his activities on the student council at the West Bank's Birzeit University. More than a decade ago, the "Israeli" entity detained al-Qiq for a month in 2003 and then for 13 months in 2004.
The journalist is now being held under "Israel's" controversial administrative detention law, which allows the regime to hold suspects for renewable six-month periods without trial.
Over 500 detainees are under administrative detention, which is a sort of imprisonment without trial or charge that allows the Tel Aviv regime to incarcerate Palestinians for up to six months. The detention order can be renewed for indefinite periods.
Source: Al-Ahed news