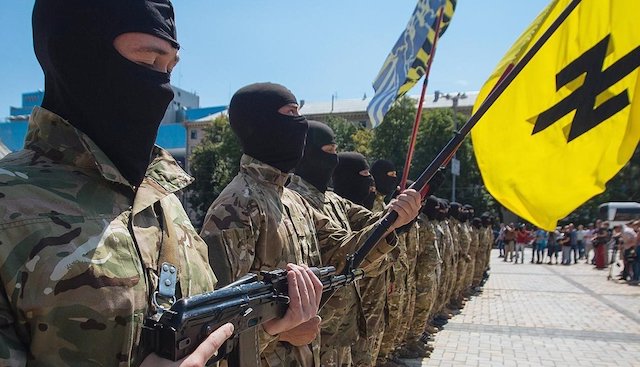 NourNews – The group in question – which calls itself Military Order Centuria, or simply Centuria, has links to the far-right Azov movement. With mounting evidence pointing to the Canadian Armed Forces having trained members of Ukraine's military who are also reported to be part of extremist groups, experts say the Canada needs to strongly bolster its investigation and vetting of the soldiers it trains and arms in the embattled country. 
The Canadian Department of National Defence promised a thorough review of Canada's mission in Ukraine after CTVNews.ca approached them for comment in October 2021, regarding a report from George Washington University that found extremists in the Ukrainian military were bragging about being trained by Canadians as part of Operation UNIFIER.
The group in question – which calls itself Military Order Centuria, or simply Centuria, has links to the far-right Azov movement. The Canadian military said they were alarmed by the report and denied any knowledge that extremists had taken part in training, adding that it does not have the mandate to screen the soldiers they train from other countries. 
In the month that followed, an investigation by the Ottawa Citizen found that not only did Canadian officials meet and get briefed by leaders from the Azov Battalion in 2018, they did not denounce the unit's neo-Nazi beliefs – despite being warned about their views by their colleagues – and their main concern was that media would expose that the meeting had taken place. Officers and diplomats allowed themselves to be photographed with battalion officials which was then used online by Azov as propaganda.
The federal government, which has spent more than $890 million training Ukrainian forces through Operation UNIFIER, has repeatedly stressed that it has not and will not ever train soldiers affiliated with Azov.
However, a recent investigation by Radio Canada into documents related to Canada's mission in Ukraine found evidence that soldiers from the Azov regiment, identified by patches on their clothing and other insignias, have participated in training with the Canadian Armed Forces (CAF) as recently as 2020 at the western-backed Zolochiv training centre in Western Ukraine.
In a series of messages to CTVNews.ca, a spokesperson for the Azov regiment currently fighting in Mariupol, Ukraine said they were excluded as a group from training with Canadian instructors in Op. UNIFIER but that they "wrote a program" for their own courses and "were instructors in all disciplines in the National Guard of Ukraine training centre," confirming Radio Canada's previous reporting.
The spokesperson did not address questions related to individual Azov regiment members receiving training through Op. UNIFIER.
However CTVNews.ca was able to find evidence on the social media account of Azov regiment leader Kyrylo Berkal, call sign "Kirt," of members training with Canadian instructors, where they refer to "cooperation" with Op. UNIFIER in 2019. Berkal's social media features Nazi symbols and other extremist views.
CTVNews.ca asked the government whether it would re-evaluate its special relationship with Ukraine, its training mandates for Op. UNIFIER or review the lethal aid being sent to Ukraine in light of the recent reports. A spokesperson for the Canadian Joint Operations Command of the CAFs said in a statement emailed to CTVNews.ca earlier this month that "all members deploying on Operation UNIFIER are briefed to help them recognize patches and insignia associated with right-wing extremism."
The statement said that if Canadian soldiers "suspect" their Ukrainian peers or counterparts hold racist views or belong to right-wing extremist elements they "are removed immediately."
However, the statement reiterated that when it comes to vetting foreign soldiers; "there is no burden of proof on the CAF to demonstrate this beyond a reasonable doubt."
The CAF said it takes "every reasonable measure" to ensure no training is provided to extremists, but the statement said "Ukraine is a sovereign country" responsible for recruiting and vetting its own security forces.
Addressing concerns that extremist elements in the Ukrainian military now have access to much deadlier firepower because of countries like Canada arming Ukraine since the Russian invasion, the CAF said that donations of military aid are provided "exclusively" to the Ministry of Defence of Ukraine and that those donations are "controlled with end users certificates provided by the MoD of Ukraine."
Is Canada liable if soldiers it trained or armed in Ukraine commit crimes?
As Canada and its allies continue to funnel weapons and aid to Ukraine, the question of liability hangs in the air. If a member of the Ukrainian military who has extremist views or is part of a group like Centuria or the Azov Regiment – commits a crime with training or weapons provided by Canada, where does the blame lie?
The answer is complicated and has several levels, according to Professor of Constitutional and International Law at the University of Ottawa, Errol Mendes.
Starting at the international level, Mendes used the example of Canada selling arms to Saudi Arabia, for which he noted Canada has been accused by human rights organizations in the past of violating the Arms Trade Treaty, by providing weapons to a government that has a known history for human rights violations.
"How does this then apply to Ukraine if some of the weapons that have been sent end up with the Azov Regiment or any group that may come under scrutiny for allegations of war crimes?" he said in a telephone interview with CTVNews.ca. "The difference is that the arms were sent to Saudi Arabia under the auspices of the Saudi government which is well known to have been involved in human rights violations – could one say the same thing about Ukraine?"
A step down from the international level, Mendes says, is to determine how significant was the government of Ukraine and Canada's involvement in the training and the sales of the weapons.
"How much command responsibility do they have for any of the violations under the Geneva Conventions and under international humanitarian law in general? Command Responsibility is where you have to prove, if this ever ended up in a court of law, and assess what are the responsibilities of the military leaders in Ukraine and then the political leaders they report to?" he said. "Did they know? Did they do anything to stop the acts from being committed? It really boils down to the level of knowledge that the appropriate commanders and those they report to at the political level."
Mendes said it would be a tough sell legally to prove that Canada is liable for actions performed by Ukrainian soldiers they trained or armed.
"In that situation you have to figure out not only those who have actual command responsibility, but whether anybody else were potentially aiding them… and could one then make the argument that if Canada knew [about the extremists], could they be seen as aiding in that sense, that would be subject to obviously a lot of evidentiary requirements to be proved," Mendes said.
Mendes said Canada should focus on supporting the Ukrainian prosecution office and oversight mechanisms to "help the military command deal with the negative far-right forces in the army."