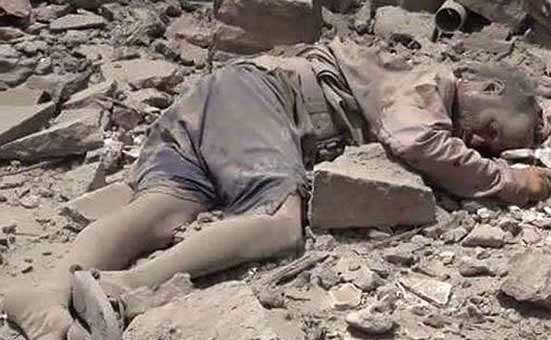 Local Editor
As part of its continuous brutal aggression on Yemen, the Saudi-led coalition fighter jets raided on Tuesday the Khamis market in Yemen's Hajja, martyring more than 120 civilians and injuring dozens of others.
An official at a hospital run by Doctors Without Borders [MSF] said the facility had received the bodies of 41 people killed in the raids, along with 35 people who were wounded.
A health official in Hajja said the casualties were civilians and included children, adding that "the toll could rise".
Local officials and tribal sources stated that coalition warplanes carried out several raids on the market in the town of Mustabaa.
Sources further mentioned that health facilities in Mustabaa and the neighboring town of Abs were receiving the casualties but were short on medical supplies.
In response, the Political Council of Yemen's Ansarullah movement reaffirmed that "going too far in committing the Khamees market massacre in Mastaba Directorate does not help in finding solutions as much as it would lead to the continuation of the war and the complexity of the situation."
The council in a statement added, "the Saudi American aggression committing this horrible crime proves that it does not respect the covenants and conventions especially that this particular crime comes under the efforts that are supposed to lead to a cessation of aggression and not its continuation and with a larger scale of brutality."
The movement condemned the Khamees market massacre and called on the Yemeni people to join efforts in defending its self until the aggression stops and the siege in all its form be lifted.
The Saudi warplanes also launched 11 raids on Arkoub military camp in Khawlan al-Tayal governorate in Sanaa.
For their part, the Yemeni army and popular committees repelled an attack launched by the Saudi-led mercenaries in al-Qasr area in Taiz, inflicting heavy losses upon them.
Saudi Arabia began its deadly campaign against Yemen in late March 2015.
About 8,300 people have been martyred and over 16,000 injured since Riyadh launched the airstrikes. The Saudi aggression has also taken a heavy toll on Yemen's facilities and infrastructure.
Yemeni forces have been engaged in retaliatory attacks against the Saudi forces deployed in the country as well as targets inside Saudi Arabia.
Source: Al-Ahed news