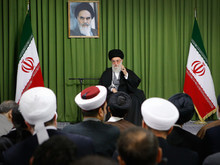 Leader of the Islamic Revolution Ayatollah Seyyed Ali Khamenei says the "bitter and shocking" crush which happened during the Hajj rituals in Mina near the holy Saudi city of Mecca must not be forgotten.
In a meeting with Hajj authorities on Monday, the Leader lashed out at governments, especially the Western states, and institutions which only claim to be advocates of human rights, for remaining tight-lipped in the face of the Mina tragedy, saying, "This incident mustn't be forgotten, and the [Iranian] diplomacy apparatus as well as the Hajj [and Pilgrimage] Organization have a duty to follow up on the issue with determination."
The crush happened after two large masses of pilgrims converged at a crossroads in Mina during one of Hajj rituals.
Saudi Arabia claims nearly 770 people were killed in the incident, but officials at Iran's Hajj and Pilgrimage Organization say about 4,700 people, including 464 Iranians, lost their lives in the tragedy. Still, foreign officials offer a different figure, putting the total death at 1,829.
Source: Press Tv