Rassegna Esteri
Militants Fail to Restore Khanasser, Lattakia Battles Claim 100 Plus Gunmen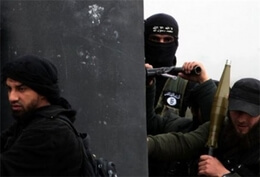 Syrian army units continued on Thursday to chase remnants of militants in Thiyabiya and Husseinia south of Sayyed Zeinab (as) in rural Damascus, as more than 100 insurgents were killed across the country's occupied provinces.
The Syrian army regained control over most of the two towns, which are considered one of the most important areas in East Ghota, located few kilometers away from Damascus International Airport, and constitute a key supply line between Sabina and Yalda regions down to the Yarmouk Palestinian refugees camp.
Al-Alam TV reporter said the opposition militants attempts to regain control of the town Khanasser in Aleppo countryside reclaimed two days ago by the Syrian army are doomed to failure.
The UK-based opposition Syrian Observatory said the army was capable of "seizing control over the village of Sheikh Amr and the orchards interval between the Thiyabiya and Bowayda towns", indicating that several militants were claimed, including a brigade commander.
Moreover, Al-Manar TV correspondent reported that the Syrian army units have full control over Bowayda of Quneitra region in the Golan.
Violent clashes also broke out between Kurdish militants and other militant groups in the countryside of Aleppo and Hasakah, where dozens were killed and wounded.
In east of Aleppo province, state-run news agency reported that the Syrian army killed armed groups members and destroyed convoys loaded with weapons and ammunition in the monastery of Hafer, Abtin, Allirmon, Jabboul Lake, Tal Arn – al-Radwaniya axis, Safira, Kafr Hamra and Alcastelo near the village of Sherbaa in Easter countryside of Aleppo.
In the meantime, scores of insurgents were killed during quantity operations of the Syrian army in the northern countryside of Latakia, including an Egyptian, a Jordanian and one commander of the so-called Islamic State of Iraq and Levant (ISIL) armed group in the villages of Najiya, Durra, Droshan and Rabiah.
41 other militants were also killed in Najiya town of northern Latakia countryside, including the Egyptian Thaer Sayyed Ali.
Recently, fierce clashes erupted between the ISIL, Al-Qaeda-affiliated Al-Nusra Front terrorist group and the so-called free Syrian army in the wake of disputes on power and control sharing over areas not reclaimed so far by the Syrian army.
The Syrian national military launched a wide-scale military operation in May 2013 in the country's main provinces to restore security and release citizens from terrorist threats.
Syria was hit by a violent unrest since mid-March 2011, where the Syrian government accuses foreign actors of orchestrating the conflict by supporting the militant opposition groups with arms and money.
Source: Al Manar