Rassegna Esteri
Larijani Blasts Turkey for Baseless Allegations against Iran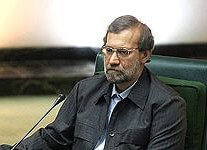 (FNA) – Iranian Parliament Speaker Ali Larijani lashed out at Ankara for raising unfounded allegations against Iran, and said Turkey is projecting the blame of its miscalculations in Syria on Teheran and Hezbollah.
"The Turkish foreign minister's recent accusations against Iran and Hezbollah are incorrect and unreal", Larijani said, addressing an open session of the parliament on Sunday.
He advised the Turkish officials who have fought against Syria due to "their incorrect analysis" to avoid blaming Iran and Hezbollah for their miscalculations.
In relevant remarks earlier this month, Iran also called on Turkey, one of the main actors in the Syrian issue, to show tolerance with regard to Syria.
"We hope that the Syrian crisis will be solved as soon as possible so that the flames of crisis won't spread to the other places", Iranian Foreign Minister Ali Akbar Salehi said before leaving Jeddah, Saudi Arabia, where he attended a ministerial meeting of the Organization of the Islamic Cooperation (OIC) on the crisis in Mali.
He elaborated on his meeting with Turkish top diplomat Ahmet Davutoglu on the sidelines of the OIC meeting, and said, "I had talks with Mr. Davutoglu in details to this end (on the Syrian crisis) and we hope that our dear friends in Turkey behave tolerantly towards the issue".
Syria has been experiencing unrest since March 2011 with organized attacks by well-armed gangs against Syrian police forces and border guards being reported across the country.
Hundreds of people, including members of the security forces, have been killed, when some protest rallies turned into armed clashes.
The government blames outlaws, saboteurs, and armed terrorist groups for the deaths, stressing that the unrest is being orchestrated from abroad.
In October 2011, calm was almost restored in the Arab state after President Assad started a reform initiative in the country, but Israel, the US, its Arab allies and Turkey sought hard to bring the country into chaos through any possible means. Tel Aviv, Washington and some Arab capitals have been staging various plots to topple President Bashar al-Assad, who is well known in the world for his anti-Israeli stances.