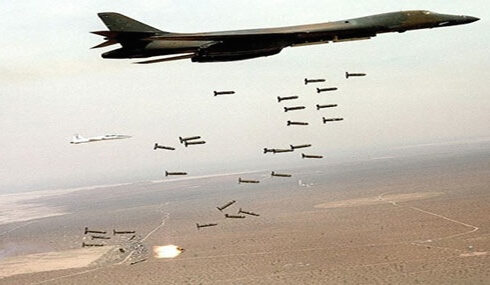 As Saudi Arabia continues to bomb Yemen, it once again used banned cluster bombs in its deadly airborne aggression against the improvised country.
Yemen's al-Masirah TV reported on Friday night that Saudi warplanes attacked residential areas in Baqim district in Yemen's northwestern Sa'ada province with cluster munitions, which are banned under the international law.
There are no immediate reports on the number of casualties or the extent of damage.
Earlier in the day, Saudi air raids killed at least 34 civilians, mostly women and children, and wounded scores of others in the border province.
Elsewhere, in the Sirwah district of the central province of Ma'rib, four people lost their lives and several others sustained injuries as Saudi jets pounded a market in the area.
Saudi warplanes also launched 20 airstrikes on the capital Sana'a, where 19 people were killed and at least 100 others were injured. The Saudis also carried out eight more air raids on a prison in the province of Bayda.
Yemen's forces launched dozens of rockets against Saudi positions, killing three soldiers and injuring 28 others in the southwestern border province of Jizan. The Saudi civil defense agency confirmed the casualties.
Yemen's Ansarullah fighters and allied army units have pledged to continue their retaliatory attacks until Riyadh stops its war on the impoverished nation.
Cluster munitions pose a dual risk to civilians: first, when they explode their small bomblets or sub munitions fall indiscriminately over a wide area, meaning that even if aimed at a legitimate military target, civilians may still unlawfully be hurt or killed. But bomblets that failed to explode initially can harm civilians later, sometimes long after the attack.
The often-unstable bomblets can explode when children pick them up or animals graze nearby. They can prevent farmers from working their fields, threatening their livelihood.
Source: Al-Ahed news