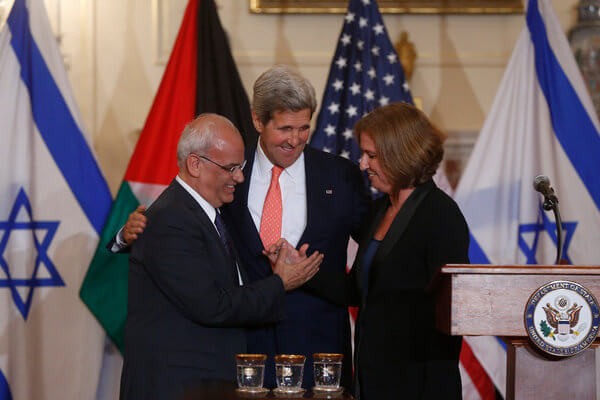 US Secretary of State John Kerry said Tuesday that Israeli and Palestinian negotiators would convene again in the Middle East within two weeks and that their goal would be to work out a comprehensive peace agreement within nine months that would lead to an "independent Palestinian state".
"The parties have agreed to remain engaged in sustained, continuous and substantive negotiations on the core issues", Kerry said at the State Department, flanked by Tzipi Livni, Israel's justice minister, and Saeb Erakat, the chief Palestinian negotiator.
"Our objective will be to achieve a final status agreement over the course of the next nine months," Kerry said. "We all understand the goal that we're working towards: two states living side by side in peace and security".
Kerry and the Israeli and Palestinian negotiators met with Obama and Vice President Joseph R. Biden Jr. at the White House for almost 30 minutes on Tuesday morning. "The president used this opportunity to convey his appreciation to both sides for the leadership and courage they have shown in coming to the table, and to directly express his personal support for final status talks", Jay Carney, the White House spokesman, said later.
Kerry said that a peace agreement was possible, and that both sides owed it to future generations to try. "While I understand the skepticism, I don't share it, and I don't think we have time for it", he said.
Israeli Settlements Not A Condition!
Kerry did not press for an Israeli commitment to freeze settlement construction as a condition for resuming talks. American officials made clear they were hoping for, but not counting on, Israeli restraint.
A senior State Department official told reporters that the United States was hoping that each side would "take steps to create a positive atmosphere," but added, "It is fair to say that you are likely to see Israeli settlement activity continue".
 "Palestinians have suffered enough, and no one benefits more from the success of this endeavor", Erakat said. "I am delighted that all final status issues are on the table and will be resolved without any exceptions, and it's time for the Palestinian people to have an independent, sovereign state of their own".
Livni, addressing Erakat, said the two sides needed to look beyond the problems that had frustrated talks in the past.
"You know, Saeb, we all spent some time in the negotiations room", she said. "We didn't reach dead end in the past, but we didn't complete our mission. A new opportunity is being created for us, for all of us, and we cannot afford to waste it".
Source: Al Manar