Rassegna Esteri
Jeffrey Epstein, US communist First Lady Melania's godfather wiped out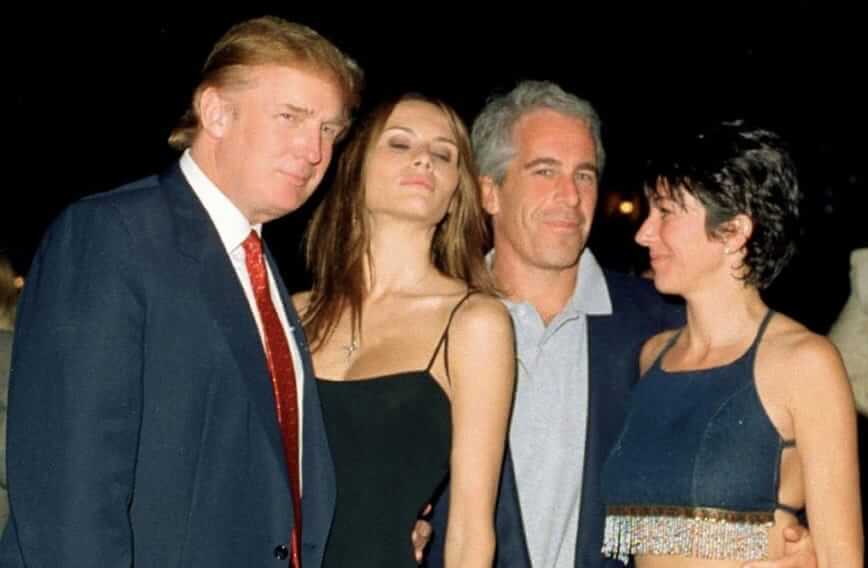 Jeffrey Epstein's record shows him as human trafficker, sex dealer, Wall Street billionaire, fashion brands partner, and close friend to Trump. Bill Clinton, Prince Andrew, the British Queen's son, and Saudi princes have also been his partners in moral scandal cases. Regarding Jeffrey Epstein, whatever was is a thing of the past and he is no more existent. The only thing from Jeffrey Epstein existing in this world is his murder, or suspicious suicide which was carried out under the strictest watch. The forensic announced reason for death as suicide, closing his case in this world forever. But is the black box of politicians' political and sexual crimes going to be buried with him?
The story of Jeffrey Epstein should be traced from his vital information about financial and moral corruption of U.S, European, and Saudi politicians, which is a long story. But the most sensitive part of his life which has been overlooked is his lobbying around the world over political and trade issues which included sex dealership and his introducing Melania to Trump.
Jeffrey Epstein had a team of human traffickers to identify beautiful girls even under-12. Using his ex-partner Ghilaine Maxwell, Epstein would sell to security organs around the world the most talented of girls as prey, choosing their most beautiful ones to U.S., European, Russian, and some Arab politicians to have fun with. He would offer 12-year old girls to top politicians, among which was Bill Clinton too, in his own property on U.S. Virgin Islands, which came to be known as "group sex island".
These beautiful dolls will be strictly controlled in order not to tell secrets if they are not by the side of politicians or billionaires. Of course venturing into the secrets of these voluptuaries would cost one's life. Two British journalists, Jill Dando and Liz MacKean, were killed suspiciously while dealing with such issues.
Epstein's team would carry out their lobbyism by offering young girls to security services to be used for multiple purposes. Some of them would undergo training and enter security services. Their most beautiful and genius ones would undergo training and then introduced to fashion industry with the aim to bring global fame for trade at the politicians' bordellos. Over various courses, these sex laborers would learn oral sex and golden showers as well as meek, slave-like manners before their masters and their guests. Some of their brightest and most attractive ones would be the share of European presidents. Cecilia Ciganer-Albeniz and Carla Bruni, Sarkozy's wives, as well as Jullie Gayet, wife of Francois Hollande, former French presidents, were selected from among these very models.
Ivana Zelnichkova, Trump's first wife, also had some ties in the fashion business. Her father was a member of Czechoslovakia's intelligence service and pushed Ivana into America's fashion market with directions from that service. Ivana met Trump in New York in 1976 and married him a year later. In 1990, after it was found out that Ivana was carrying information about U.S. elections to her father, media pressure forced her into separating from Trump.
Epstein's masterwork during his career was introducing Melania to Trump. Melania's story is a repetition of Trump's first wife. Melania was discovered while under 12 and sold to East Germany's security service Stasi. The Stasi station in Dresden, former East Germany, which was Stasi's main headquarters, operated with KGB under Putin's direct supervision. This station was commissioned to train Melania and while there she learned Dutch. After acing in her training, Melania was directed by Stasi in 1986 to change her name from Melanija Knavs to Melania Knauss. The same year, when 16, she started modeling working with a Slovenian photographer named Stane Jerko.
After artificially registering in the University of Ljubljana, she immediately quit and was sent to Italy under her Dutch name, continuing her modeling career in Paris and Milan. In 1988 she signed contract with a fashion magazine in Milan. In 1992, the Jana Magazine published Melania's photos, where she was chosen as one of the year's top 3 models. She however failed at the final stage of the Jana's annual competition and was seized by depression.
During that time, Stephan Roh, the owner of Co-owns Link Campus University in Italy and in close relations with Russian intelligence services, was Melania's covert agent in Italy and Paris. He ended up introducing Melania to Paolo Zampolli, and through him to Epstein. With the help of these people, Melania embarked on route to America.
Zampolli had a fashion company with the name ID Models in New York. He started fashion business and cooperation with Trump in 2008. He was also working for Trump Organization as international development manager.
Roh was a close friend of Joseph Mifsud, who himself had close ties with Trump, Epstein, and Zampolli. Through Mifsud, Roh introduced Melania to Trump as a project under the name Shining Diamond. Then, working with Zampolli, Epstein and Mifsud led Melania to New York as part of the 1996 Modelling Community. Later they applied for her Green Card as an elite person.
Before she married Trump, Melania had flown on board his personal jet, appearing in ad photos; and she has many photos with her in the arms of Trump and Epstein. There are speculations about Melania Trump's relations with the KGB, which are true. Melania was known in Germany's Dresden where Putin was the head of the headquarters.
After she shook hands with Putin in Helsinki during Trump's first meeting with Putin, Melania's fright went viral on media. Melania knows six languages, but she denies she knows Russian. This is while she did the interpreter's job during Trump and Putin's secret meeting where there were no official interpreters.
On the sidelines of the G20 summit in Germany, Melania spent some time talking to Putin. The two of them talked for some considerable length on the sidelines of the summit without any in-between person. Putin knows Dutch as well.
After Epstein's death, Trump made his first threatening reaction to his suicide by citing conspiracy theory over the role of Democrat leaders, including Bill Clinton, in the Epstein scandal, trying to prevent Democrat-minded press as well as pre-election misuse against him over Epstein's suspicious death and his ties with Melania.
Mifsud is now disappeared and Jeffrey Epstein is dead. Now the lives of Melania Trump, Stephan Roh, Zampolli, Maxwell, and George Papadopoulos, as people who were in this issue and have direct ties with Trump, face threats. Are these people going to be the future victims to cover the whole story? The future will give the answer.
By Adam Dentor (@Adamdentor)