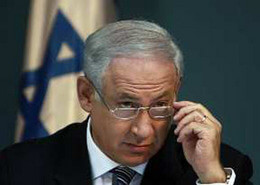 Israeli Prime Minister Benjamin Netanyahu on Wednesday accused Palestinians of creating "artificial crises" in nascent peace talks and called on the United States to get negotiations back on track.
"I am concerned about progress because I see the Palestinians continuing … to create artificial crises … and run away from strong decisions that are needed to make a genuine peace," Netanyahu said at a meeting with US Secretary of State John Kerry in Jerusalem. "I hope your visit will help steer them back to a place where we could achieve the historical peace that we seek," he told Kerry.
On Tuesday, Secretary of State John Kerry said the Israeli- Palestinian talks had run into difficulties but thought it still possible some agreement could be reached.
"I come here without any illusions about the difficulties, but I come here determined to work," Kerry said after arriving in the occupied Palestinian territories ahead of talks on Wednesday with Netanyahu and Palestinian President Mahmoud Abbas.
"We believe this is something that is possible and that it's good for all and can be achieved," Kerry told a remembrance service for late Zionist Prime Minister, Yitzhak Rabin.
A senior Palestinian Authority (PA) official said Tuesday that there will be no direct talks with the Zionist entity if it keeps on expanding illegal settlements in the occupied West Bank.
"The Israeli side is determined to continue its settlement and we cannot continue negotiations under these unprecedented settlement attacks," the official said following a meeting between Israeli and Palestinian negotiators.
"The Palestinian-Israeli negotiations broke down during the session on Tuesday night," he revealed.
Earlier in the day, acting PA chief Mahmoud Abbas described Israel's settlement activities as damaging to the so-called peace talks.
Source: Al Manar