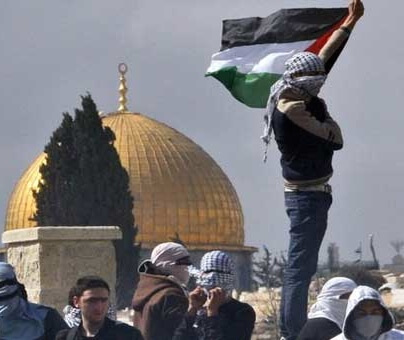 For the second straight day, "Israeli" army desecrates al-Holy al-Aqsa Mosque Muslims by penetrating into its yards.
According to the "Israeli" narrative, "As the police entered the compound masked youths fled inside the mosque and threw stones at the force."
The clashes come a day after violent confrontations at the holy site on Sunday, during which "Israeli" police stormed the Al-Aqsa Mosque itself, Islam's third-holiest site, and caused damage.
Witnesses said "Israeli" forces stormed the al-Aqsa Mosque compound shortly after dawn prayers, firing rubber-coated steel bullets and stun grenades, leading to the injury of several worshipers.
The "Israeli" forces then surrounded worshipers inside al-Aqsa Mosque and closed its doors with "chains and bars" before firing rubber-coated bullets inside the holy site, witnesses said.
Also on Sunday, clashes erupted between Palestinians and "Israeli" forces at the al-Aqsa compound after the regime's forces attempted to force Palestinian worshipers out of the mosque while expanding the military deployment in the yard of the holy site for the so-called "Jewish Rosh Hashanah" New Year holiday.
According to Palestinian sources, "Israeli" forces stormed the mosque and inflicted damage on the compound. Dozens of worshippers sustained suffocation injuries from tear gas as well as injuries from rubber bullets fired by Israeli forces.
A fire was also reportedly ignited in another mosque adjacent to the al-Aqsa compound.
Meanwhile, a senior UN official has expressed concern over the recent violence in East al-Quds, where "Israeli" forces clashed with Palestinian worshipers at al-Aqsa Mosque.
"I encourage all to stand firmly against incitement and violence," especially during the Jewish New Year holidays and ahead of the Muslim Eid al-Adha, said the UN Special Coordinator for Middle East, Nickolay Mladenov, in a Sunday statement.
Source: Al-Ahed news