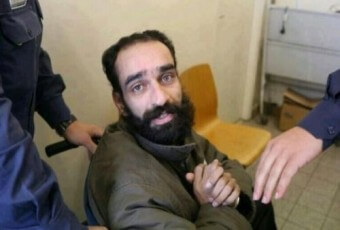 An "Israeli" court on tuesday ruled that the Palestinian Samer Issawi, who has been on hunger strike for over 200 days, must remain in custody.
Issawi's lawyer Jawad Bulous requested Issawi's release at a magistrate's court in Occupied al-Quds. An "Israeli" military prosecutor opposed the request.
Issawi, who entered the court in a wheelchair surrounded by armed guards, has been on hunger strike since August. Asked by the judge about his condition, Issawi "replied in a weak voice that he suffers pains and is facing death", Bulous told Maan.
His mother collapsed in court as the judge announced that Issawi would remain in prison until the next hearing in one month.
This comes as hundreds of Palestinians in "Israeli" jails declared a one-day fast on Tuesday in solidarity with Issawi and three other prisoners on hunger strike.
The Palestinian Prisoners Club, which looks after the welfare of inmates and their families, said 800 prisoners were taking part in the day-long fast.
The prisoners' campaign against detention without trial has touched off violent protests over the past several weeks outside an "Israeli" military prison and across the West Bank.
Meanwhile, the Islamic Jihad said a truce with "Israel" could unravel if any hunger striker was martyred.
Issawi was among 1,027 jailed Palestinians freed by "Israel" in 2011 in exchange for Gilad Shalit, a soldier who captured in Gaza.
Issawi and Ayman Sharawneh, who has also been on hunger strike, are among 14 Palestinians who have been re-arrested by the Zionist entity since being released in the Shalit trade.
In parallel, United Nations Secretary General Ban Ki-moon raised deep concern on Tuesday over Palestinian hunger Strikers in "Israeli" prisons, saying they must be charged and tried or be released. 
Ban highlighted the case of Issawi, who has been refusing food since august 1 and is in a "critical health condition." 
"The secretary general is deeply concerned over the rapidly deteriorating condition of Palestinian prisoners in "Israeli" custody who are on hunger strike", said UN Spokesman Martin Nesirky, Singling out Issawi's case. 
He further revealed that Ban raised the cases during recent talks with "Israel's" Prime Minister Benjamin Netanyahu.
"Of particular concern are the detainees held in administrative detention without charges," said the spokesman, and pointed out that "those detained should be charged and face trial with judicial guarantees in accordance with international standards, or be promptly released". 
The secretary general urged "for a solution to be reached without delay in order to resolve the prisoners' plight and preserve calm". 
Moreover, Ban's Spokesman stressed the importance of keeping to the accord, including by respecting family visiting rights.
"International human rights obligations towards all Palestinian detainees and prisoners under" Israeli "custody must be fully respected", he said.
Source: News Agencies