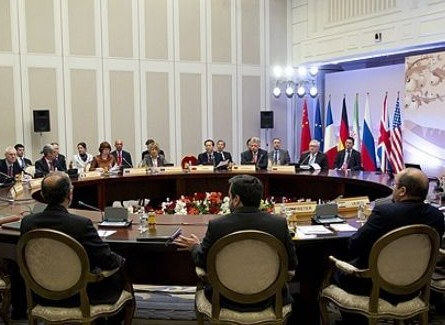 The second round of nuclear talks, between Iran and the world's five powers+ Germany, in the Kazakh capital, Almaty, ended, with no agreement was reached.
The European Union foreign policy chief, Catherine Ashton, who represents the P5 +1 group – Britain, China, France, Russia, the U.S. and Germany, said that Iran and the six powers "remain far apart on substance" and did not make enough headway to qualify the meeting as a success.
Meanwhile, Russian Deputy Foreign Minister Sergei Ryabkov said the two sides took a step forward at the talks on Tehran's nuclear program but failed to reach a compromise. He said they remain at odds over basic questions about the path to a solution.
For its part, Iran, whose delegation was headed by the Supreme National Security Council (SNSC) Saeed Jalili, eme National Security Council (SNSC) Saeed Jalili, described the talks as comprehensive, saying that it answered the six powers representative for their questions.
"In the past two days substantive, extensive and comprehensive discussions, addressing the various dimensions off the plan of action tabled by the Iran took place and representatives of the six countries sought numerous clarifications and posed many questions about Iran's proposed plan. In response, Iran provided extensive answers", the Islamic Republic said in a statement released after the talks were over.
Iran also said it was waiting for the response of the six powers after it offered its proposal.
"We think that in this round of talks, some good negotiations were conducted, and now in consideration to our new proposals, it is now up to the 5 +1 to demonstrate its willingness and sincerity to take proportionate confidence building steps", the statement added.
Iran and the P5 +1 have already held several rounds of talks the last round of which took place in Almaty on February 26-27.
Source: Al-Manar