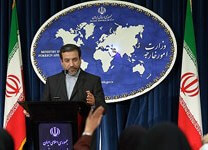 (FNA) – The Iranian foreign ministry blasted the EU decision to send weapons to the rebel groups who fight the Syrian people, and warned the decision would result in the spread of terrorism in the European countries.
"The decision to lift the embargos on arms shipment to the terrorist groups in Syria is a dangerous one", Araqchi told reporters in Tehran on Tuesday.
His remarks came after the EU foreign ministers agreed on Monday to end the embargo on supplying arms to opposition forces in Syria.
"By their incorrect decision to support such groups, the European countries brought the terrorists thousands of kilometers closer to their soil and such a hasty and incorrect decision will certainly increase threats against them", he added.
Araqchi also censured the European countries for undermining international efforts to settle the Syrian crisis politically, specially the upcoming Geneva II conference, through their decision for militarizing the situation in Syria more, and added, "The decision will make the settlement of the Syrian crisis more difficult and complicated".
Syria has been experiencing unrest since March 2011 with organized attacks by well-armed gangs against Syrian police forces and border guards being reported across the country.
The US and its western and regional allies have long sought to topple Assad and his ruling system.
The EU's anti-terror chief said in April that hundreds of Europeans are now fighting with rebel forces in Syria against Bashar al-Assad's government.
Gilles de Kerchove estimated the number in Syria at about 500.
Intelligence agencies are concerned some could join groups linked to al-Qaeda and later return to Europe to launch terrorist attacks.
The UK, Ireland and France are among the EU countries estimated to have the highest numbers of fighters in Syria.
"Not all of them are radical when they leave, but most likely many of them will be radicalized there, will be trained", de Kerchove said.
"And as we've seen this might lead to a serious threat when they get back".
Across Europe, intelligence agencies have stepped up investigations, says the BBC's Europe correspondent Duncan Crawford.
In Britain and Belgium they have increased efforts to track how people are recruited.
In the Netherlands, officials have raised the terror threat level there to "substantial" – partly over concerns about radicalized citizens returning from Syria.