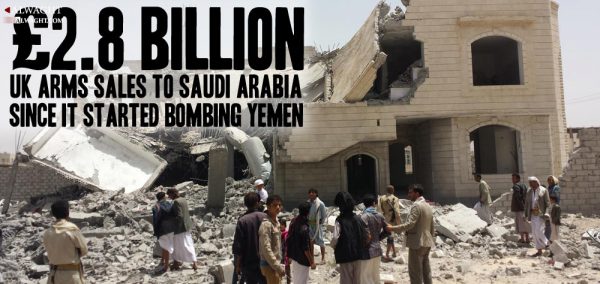 Alwaght – Britain continues to maintain double standards on human rights by selling weapons used by the Saudi Arabian regime to commit war crimes against the people of Yemen.
In January this year, a United Nations panel called for an international inquiry into widespread attacks on civilian targets by the Saudi-led coalition in Yemen. In a report submitted to the UN Security Council, the panel called for more pressure on the British Government to halt involvement in a conflict that at that time had claimed thousands of live since the commencement of the aggression in late March 2015. According to the UN panel, Saudi-led aggression had carried out 119 bombing raids that violated humanitarian law, destroying refugee camps, weddings, medical facilities, schools, mosques and markets.
Rights Bodies Slam US, British Weapons Sale to Saudi Regime
Meanwhile, Human Rights Watch reported that a Saudi Arabia-led coalition airstrike on a crowded funeral ceremony in Yemen's capital, Sanaa, on October 8, 2016, was an apparent war crime. The rights group said the US, Britain and other governments should immediately suspend arms sales to Saudi Arabia. HRW has repeatedly documented Saudi-led coalition use of US and British-produced weapons, including cluster munitions, in unlawful attacks on Yemen.  HRW noted that London continues to sell arms to Saudi Arabia for use in the military campaign in Yemen adding that there is concrete evidence of the use of British-made weapons in Yemen. Since March 2015, the UK has approved £2.8 billion in military sales to Saudi Arabia, according to the London-based Campaign Against Arms Trade.
In June this year, Amnesty International also reported that Britain is fuelling the deadly conflict in Yemen through reckless arms sales to the Saudi-led coalition adding that these sales break UK laws and the global Arms Trade Treaty it once championed. The European parliament has also expressed concern about airstrikes by a Saudi-led coalition in Yemen.
Saudi Foreign Minister Boasts of US, British Support in Yemen War
The Saudi foreign minister Adel al-Jubeir openly boasted in January this year that British and American military officials are in the command and control centre for Saudi airstrikes on Yemen, and have access to lists of targets.
The atrocities committed by the Saudis in Yemen would have been impossible without the steadfast and aggressive military and logistical support from London and Washington.
British weapons are not only used by the Saudis to commit unprecedented war crimes against Yemenis but also applied in suppressing internal dissent in the restless kingdom and in neighbouring Bahrain.
Britain is the second largest weapons exporter globally while Saudi Arabia is the largest buyer of those weapons. British missiles are falling on innocent Yemeni civilians and this is tragic situation is unfortunately continuing due to the fact that London is not ready to put aside its economic interests and has therefore chosen to trample upon the human rights of Yemeni civilians.
Johnson Defends Arms Sales to Saudi Regime
Meanwhile  in early September, the British foreign secretary, Boris Johnson, defended his country's arms sales to Saudi Arabia, claiming the Saudi-led bombing campaign in Yemen is not "in clear breach" of international humanitarian law. This is despite evidence to the contrary presented by international organizations including the UN.
British PM in Bahrain amid Brutal Crackdown
Meanwhile, British Prime Minister Theresa May is travelling to Bahrain this week for a meeting of the Persian Gulf Cooperation Council on Tuesday and Wednesday. This will visit is an expression of support and approval of the brutal Al Khalifa regime which has been clamping down on the kingdom's opposition and peaceful protests since 2011. Bahraini forces involved in the crackdown including torture of civilians are armed and trained by Britain.
May's visit to Bahrain is being touted as a step towards London's forceful return to the Persian Gulf where she is expected to open Britain's first permanent military base in the West Asia region in 40 years. The tiny Persian Gulf monarchy of Bahrain is already home to the US Navy's Fifth Fleet. Therefore, contrary to their claims, Western countries do not defend human rights as their military, political and economic interests remain supreme.