Rassegna Esteri
Erdogan Labels Protesters 'Terrorists' as France Slams 'Police Repression'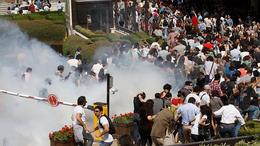 Turkish Prime Minister Recep Tayyip Erdogan claimed Thursday that members of a "terrorist organization" were taking part in deadly anti-government protests sweeping Turkey and refused to cancel a controversial development plan that sparked them.
"Among the protesters, there are extremists, some of them implicated in terrorism", Erdogan told reporters in Tunis on the final day of a North African tour that has been overshadowed by the unrest back home.
"Supporters of this terrorist organization were present" including some who acted in Istanbul's Taksim Square, epicenter of the protests, he added.
Seven foreigners implicated in the unrest have been arrested, Erdogan said, without specifying what part they had played in the violence.
Six were arrested in Istanbul and one in Ankara, according to the interior ministry. The seven have no diplomatic passports, Erdogan elaborated.
Later in Ankara, Interior Minister Muammer Guler said the authorities have decided to deport four of these foreigners, and one of them is still in custody.
Also on Thursday, France denounced a police crackdown on protesters, urging restraint and the respect of the right to demonstrate.
"No democracy can be built by repressing those who express themselves in the streets. The right to demonstrate, the right to oppose must be respected", European Affairs Minister Thierry Repentin told the Senate, France's upper house.
Since last weekend, thousands of angry demonstrators opposed to the conservative policies of Erdogan's Justice and Development Party (AKP) have taken to the streets of Turkey's main cities calling for him to quit.
A heavy-handed police response to a peaceful demonstration against the redevelopment of Istanbul's Gezi Park next to Taksim Square was the initial spark for the nationwide unrest that has now claimed three lives.
Erdogan has previously defied the protesters, dismissing them as "extremists".
"We will not allow a minority to dictate to the majority, nor will we accept the tyranny of the majority", he said on Thursday, while defending the urban development plan.
The embattled premier was due back in Turkey later on Thursday after his four-day trip, which also took him to Morocco and Algeria.
Source: Al Manar